http://feedproxy.google.com/~r/breitbart/~3/5TrimvkziA8/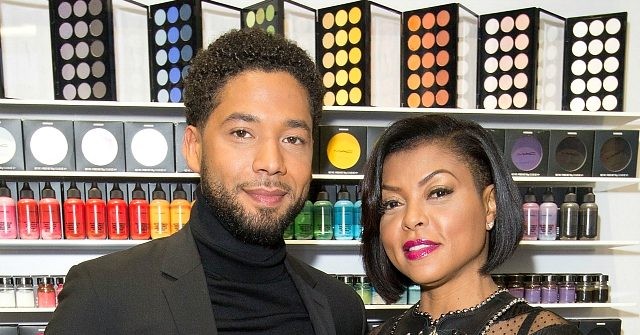 Appearing Thursday on ABC's The View, Empire actress Taraji P. Henson said that her co-star Jussie Smollett will return to the Fox Entertainment program next season despite accusations of staging a hate crime against himself.
Last month, the Cook County State's Attorney's Office dropped all 16 charges against Smollett, who the Chicago Police Department charge faked the racist and anti-gay assault on January 29th to boost his career. He is accused of filing a false police report about the ordeal. Smollett reportedly told officers that two masked men hit him, doused him with an unknown chemical substance and placed a thin rope around his neck. He also told cops the men shouted "This is MAGA country!" before fleeing. Meanwhile, the clock is ticking for Smollett to repay roughly $130,000 to Chicago for investigative costs or risk being sued for lying to law enforcement. Today marks one week since the city's chief law administrator wrote the actor a letter requesting the funds.
A partial transcript is as follows:
MEGHAN MCCAIN: So, there's always a lot about Empire, it's a hugely popular show. But, recently your co-star, Jussie Smollett, has been in the news. The charges against him have been dropped and you say you are, quote: "Happy the truth has finally been set free." Have you spoken with Jussie?

TARAJI P. HENSON: Yeah, I talk to Jussie all the time and he's doing well. Yeah, we're all doing well, the show is doing well. We're on hiatus right now, right, as we try to figure out what the next season is going to look like, what our storyline is going to be. Trying to drum up some really juicy stuff for you guys. So, that's where we are right now.

JOY BEHAR: Is Jussie going to be on the show?

HENSON: Yes! I haven't heard anything else. Yeah, I haven't heard anything.

SUNNY HOSTIN: And this is the sixth season, I think.

HENSON: It would be going into the sixth season.