http://feedproxy.google.com/~r/breitbart/~3/se7mx9WVRfc/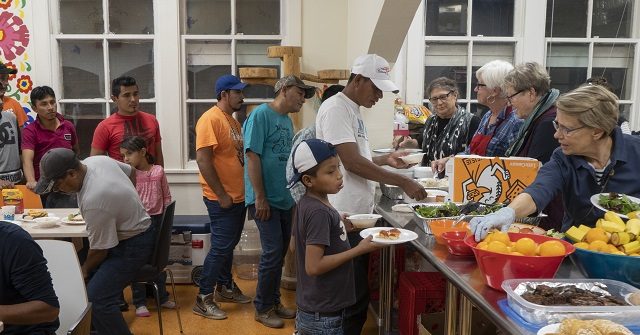 The surge of Central American migrant families and unaccompanied minors is overwhelming charitable organizations along the border who are tasked with providing shelter and aid. Recent changes in Border Patrol policies led to migrants being released directly to shelters instead of being turned over to U.S. Immigration and Customs Enforcement officials.
Directors of shelters are now scrambling for volunteers and resources to meet the demand for temporary housing and assistance to migrant families released by Border Patrol agents. One such organization, Annunciation House in El Paso, spent more than $1 million in the last five months to pay for hotel rooms after their two dozen shelters filled to capacity, director Ruben Garcia told Texas Monthly.
On March 27, the new catch and release policy went into effect. At that time, federal officials released about 1,100 migrants directly into El Paso. Texas Monthy reported that this came in addition to the 3,725 released by ICE at about the same time.
The report continues:
Garcia said the trend is worrisome because Border Patrol has little experience in helping release migrants in an orderly way and lacks the vehicles to take them to other cities when El Paso's shelters become full.

"And frankly ICE is very good at helping release people," he said. "More importantly ICE seems to have a transportation network to be able to transport people out of El Paso."

Garcia said on Monday that the shelters he works with are receiving an average of 500 to 600 migrants a day. So far, they have been able to manage the flow thanks to the network of volunteers he said, but "I have no way to predict what we can expect going forward." he said.
At the opposite end of the Texas border with Mexico, Border Patrol officials have also been forced into directly releasing migrants as well. The change in policy in the Rio Grande Valley Sector, which leads the nation in the number of migrant families and unaccompanied minors being apprehended, forced migrant advocates to scramble to find resources to house, feed, and transport the hundreds released on a daily basis, Los Angeles Times reporter Molly Hennessy-Fiske wrote.
Catholic Charities Sister Norma Pimentel, who runs shelters for the charity in the Rio Grande Valley, said they received 600 last week at a time when they already had 900 other migrants in their shelters.
"I don't understand why they let the numbers go up so high," Pimentel told the LA Times. She said her main shelters were "standing room only."
"Migrants who had not bathed in days clutched manila envelopes of immigration court paperwork," the article continues. "Volunteers helped them arrange bus tickets to join family or friends across the U.S., then took them to the station."
Migrant advocate Elizabeth Cavazoz, leader of Angry Tias & Abuelas of RGV, blamed Border Patrol for the massive number of new releases that are overwhelming these charitable groups.
"I feel like they're trying to put some stress on the volunteer and advocacy groups, all of us touting 'There's no crisis down here,'" Cavazos said. "Maybe it's for them to save face because they've been calling this a border crisis and everything's peachy keen down here. That's what it feels like."
Officials predict more than 100,000 migrants, mostly families and unaccompanied minors from Central America, would cross the border in March. The official report for March is due to be published in the next few days.
Bob Price serves as associate editor and senior political news contributor for the Breitbart Border team. He is an original member of the Breitbart Texas team. Follow him on Twitter @BobPriceBBTX and Facebook.