Saturday's tragic shooting at Chabad of Poway synagogue near San Diego, which resulted in one death and three injuries, could have been much worse if it weren't for the heroic actions of Oscar Stewart.
Stewart, a combat veteran of the Iraq War who served time in the Army and Navy, immediately jumped into action when AR-15 shots rang out. He recalled his story
in an interview with The Daily Caller on Sunday.
What did Stewart say?
Stewart, 51, recalled that he does not remember a single conscious thought between the time the shots began and when the incident was finally over. He just remembers that he acted on instinct, running toward the shots — not away from them.
"Get down!" Stewart yelled when shots rang out, according to witnesses. "You motherf***er! I'm going to kill you!"
"I knew I had to be within five feet of this guy so his rifle couldn't get to me," Stewart explained. "So I ran immediately toward him, and I yelled as loud as I could. And he was scared. I scared the hell out of him."
Stewart said when the shooter opened fire, he was in the back of the synagogue. Unfortunately, by the time the shooter reached the lobby, he had already mortally wounded one woman and shot three others. That's when Stewart turned the corner and engaged the shooter.
"When I came around the corner into the lobby area, I saw the individual with a gun, and he fired two rounds. And I yelled at him and I must have yelled very loud, and he looked at me, and I must have had a really mean look on my face or something, because he immediately dropped his weapon and turned and ran. And then I gave chase," Stewart told The Daily Caller.
Indeed, witnesses recall that Stewart screamed so loud that he made the noise of four or five men.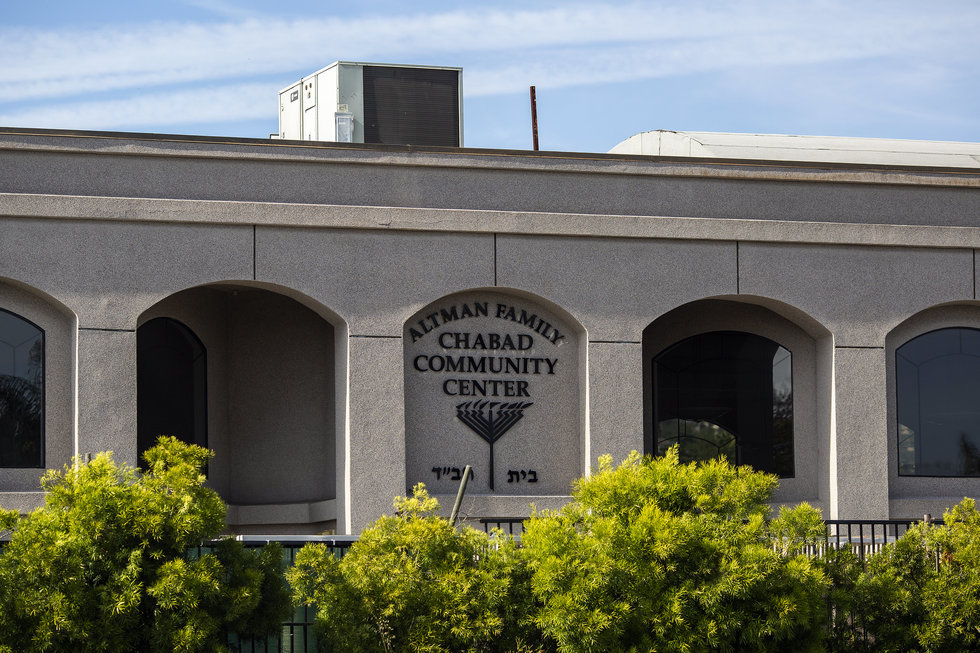 David McNew/Getty Images
After engaging the shooter, Stewart said the 19-year-old killer cowardly locked himself in his car. Stewart pounded on the car — determined to deal with the shooter himself — when he saw the shooter reach for another firearm inside the car. That's when the off-duty Border Patrol agent,
whom President Donald Trump recognized Saturday night, told Stewart to duck.
The Border Patrol agent, who apparently received the civilian firearm from someone inside the synagogue, fired several shots into the shooter's car, intending to disable it. Unfortunately, the shooter was able to drive away.
Fortunately, the shooter — who said he was inspired by last month's Christchurch massacre in New Zealand — later turned himself in to police.
Does Stewart consider himself a hero?
While the military veteran is being hailed as a hero, he told The Daily Caller that he does not consider himself one. Instead, he gave that distinction to Lori Gilbert Kaye, the incident's only fatality. Witnesses say the 60-year-old woman shielded the congregation's rabbi with her body.
"People in the aftermath here have been saying it's important to be strong and defend ourselves. I also think it's important to know that being strong and defending ourselves requires a lot of sacrifice too," Stewart said.
"I don't know if I consciously made the choice to potentially sacrifice myself," he explained. "But I did. And this lady, she stood and she jumped in front of the shooter and she saved the rabbi's life. When somebody said I was a hero, I'm like, she was a hero. I just did it instinctively, like an animal. There was no conscious decision. I just did it."
The funeral service for Kaye is on Monday.
Anything else?
Various
reports claimed the shooter dropped his firearm, an AR-15 semi-automatic rifle, only after it jammed. But Stewart disputes this fact.
In fact, Stewart told The Daily Caller that the shooter dropped the firearm in part because he was frightened by Stewart.
"He was in the act of shooting when I saw him," Stewart said. "When I yelled at him he turned and looked at me, and he like froze. And then the look on his face was one of amazement at first, and then one of fear. He saw me coming, and I was ready to do whatever I had to do to stop him."