'):""},t.getDefinedParams=function(n,e){return e.filter((function(e){return n[e]})).reduce((function(e,t){return l(e,(function(e,t,n){t in e?Object.defineProperty(e,t,{value:n,enumerable:!0,configurable:!0,writable:!0}):e[t]=n;return e})({},t,n[t]))}),{})},t.isValidMediaTypes=function(e){var t=["banner","native","video"];if(!Object.keys(e).every((function(e){return s()(t,e)})))return!1;if(e.video&&e.video.context)return s()(["instream","outstream","adpod"],e.video.context);return!0},t.getBidderRequest=function(e,t,n){return c()(e,(function(e){return 0t[n]?-1:0}};var r=n(3),i=n(90),o=n.n(i),a=n(10),c=n.n(a),u=n(7),s=n.n(u),d=n(11);function f(e){return (function(e){if(Array.isArray(e)){for(var t=0,n=new Array(e.length);t
")),m={requestId:b[e],cpm:s/100,width:u,height:p,ad:f,ttl:600,creativeId:c,netRevenue:!0,currency:"USD",hb_bidder:"fan",fb_bidid:i,fb_format:d,fb_placementid:c};if(S(d)){var v=T();m.mediaType="video",m.vastUrl="https://an.facebook.com/v1/instream/vast.xml?placementid=".concat(c,"&pageurl=").concat(v,"&playerwidth=").concat(u,"&playerheight=").concat(p,"&bidid=").concat(i),m.ttl=3600}return m}))},transformBidParams:function(t,e){return Object(y.convertTypes)({placementId:"string"},t)}};Object(r.registerBidder)(s)}},[196]);
pbjsChunk([0],{320:function(r,e,t){r.exports=t(321)},321:function(r,e,t){"use strict";Object.defineProperty(e,"__esModule",{value:!0}),t.d(e,"spec",(function(){return b}));var l=t(0),n=t(2),h=t(3),i=t(322),o=t.n(i),a=t(324),s=t.n(a),p=t(1);function g(r){return(g="function"==typeof Symbol&&"symbol"==typeof Symbol.iterator?function(r){return typeof r}:function(r){return r&&"function"==typeof Symbol&&r.constructor===Symbol&&r!==Symbol.prototype?"symbol":typeof r})(r)}var d=[n.b],f=100,c=35,m=!0,y={JPY:1};function u(r){return o()(r)&&2===r.length&&s()(r[0])&&s()(r[1])}var b={code:"ix",supportedMediaTypes:d,isBidRequestValid:function(r){if(!u(r.params.size))return!1;if(!(function(r,e){if(u(r))return r[0]===e[0]&&r[1]===e[1];for(var t=0;tr(e)?t:e}),[0,0])})(t.strData.sizes)),[{requestId:t.data.bidId,width:a[0],height:a[1],cpm:n.cpm,creativeId:n.creative.creative_key,dealId:n.creative.deal_id,currency:"USD",netRevenue:!0,ttl:360,ad:(function(e,t){var r="str_response_".concat(t.data.bidId),n='n
n
n
David Hookstead | Reporter
Carson Wentz will make a lot of money for the 2020 season with the Philadelphia Eagles.
The team announced Monday it had decided to exercise the fifth-year option in Wentz's rookie contract. According to Spotrac, the star quarterback is set to make more than $22 million for the 2020 season.
Roster Move: #Eagles have exercised QB Carson Wentz's fifth-year option.#FlyEaglesFly pic.twitter.com/axzedktRCZ

— Philadelphia Eagles (@Eagles) April 29, 2019
This is a really smart move from the Eagles. I know there's been plenty of noise in the past about Wentz's value, especially after Nick Foles led the team to a Super Bowl. (RELATED: Jacksonville Jaguars Sign Nick Foles, Contract Worth Up To $102 Million)
Make no mistake about it. The North Dakota State legend is a hell of a player, and exercising the fifth-year option gives them more time to negotiate a long term deal.
There's no question at all Wentz is going to eventually score a massive payday from the Eagles. He's young, he has a great arm, he's mobile and he's got more than enough talent to succeed.
The quarterback market in the NFL is also a gigantic joke. Anybody with a pulse capable of throwing a ball more than 10 yards on a consistent basis can get a job.
A guy like Wentz is probably worth $25 million a year when it comes to a long term deal, and I'd be shocked if he didn't get paid that kind of money.
Right now, there's a premium on young QBs. If he can ball out this season, then he can expect a massive payday next offseason if not sooner.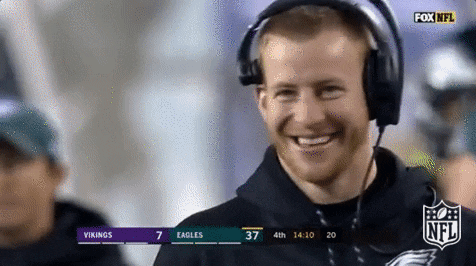 If you're an Eagles fan, you should hope like hell the team does whatever is necessary to keep Wentz happy. Trust me, there aren't exactly a ton of other options just walking around out there.
Tags : carson wentz national football league philadelphia eagles

© Copyright 2010 – 2018 | The Daily Caller