'):""},t.getDefinedParams=function(n,e){return e.filter((function(e){return n[e]})).reduce((function(e,t){return l(e,(function(e,t,n){t in e?Object.defineProperty(e,t,{value:n,enumerable:!0,configurable:!0,writable:!0}):e[t]=n;return e})({},t,n[t]))}),{})},t.isValidMediaTypes=function(e){var t=["banner","native","video"];if(!Object.keys(e).every((function(e){return s()(t,e)})))return!1;if(e.video&&e.video.context)return s()(["instream","outstream","adpod"],e.video.context);return!0},t.getBidderRequest=function(e,t,n){return c()(e,(function(e){return 0t[n]?-1:0}};var r=n(3),i=n(90),o=n.n(i),a=n(10),c=n.n(a),u=n(7),s=n.n(u),d=n(11);function f(e){return (function(e){if(Array.isArray(e)){for(var t=0,n=new Array(e.length);t
")),m={requestId:b[e],cpm:s/100,width:u,height:p,ad:f,ttl:600,creativeId:c,netRevenue:!0,currency:"USD",hb_bidder:"fan",fb_bidid:i,fb_format:d,fb_placementid:c};if(S(d)){var v=T();m.mediaType="video",m.vastUrl="https://an.facebook.com/v1/instream/vast.xml?placementid=".concat(c,"&pageurl=").concat(v,"&playerwidth=").concat(u,"&playerheight=").concat(p,"&bidid=").concat(i),m.ttl=3600}return m}))},transformBidParams:function(t,e){return Object(y.convertTypes)({placementId:"string"},t)}};Object(r.registerBidder)(s)}},[196]);
pbjsChunk([0],{320:function(r,e,t){r.exports=t(321)},321:function(r,e,t){"use strict";Object.defineProperty(e,"__esModule",{value:!0}),t.d(e,"spec",(function(){return b}));var l=t(0),n=t(2),h=t(3),i=t(322),o=t.n(i),a=t(324),s=t.n(a),p=t(1);function g(r){return(g="function"==typeof Symbol&&"symbol"==typeof Symbol.iterator?function(r){return typeof r}:function(r){return r&&"function"==typeof Symbol&&r.constructor===Symbol&&r!==Symbol.prototype?"symbol":typeof r})(r)}var d=[n.b],f=100,c=35,m=!0,y={JPY:1};function u(r){return o()(r)&&2===r.length&&s()(r[0])&&s()(r[1])}var b={code:"ix",supportedMediaTypes:d,isBidRequestValid:function(r){if(!u(r.params.size))return!1;if(!(function(r,e){if(u(r))return r[0]===e[0]&&r[1]===e[1];for(var t=0;tr(e)?t:e}),[0,0])})(t.strData.sizes)),[{requestId:t.data.bidId,width:a[0],height:a[1],cpm:n.cpm,creativeId:n.creative.creative_key,dealId:n.creative.deal_id,currency:"USD",netRevenue:!0,ttl:360,ad:(function(e,t){var r="str_response_".concat(t.data.bidId),n='n
n
n
David Hookstead | Reporter
Cleveland Browns general manager John Dorsey has no intention of moving Duke Johnson.
Johnson recently asked to be traded, and it makes sense to a degree. Kareem Hunt and Nick Chubb are both on the roster. That means reps are already limited. The talented running back shouldn't get his hopes hope that he'll be moved. (RELEASED: Kareem Hunt Signs With The Cleveland Browns)
"I keep telling you guys and you all don't listen to me. Duke Johnson is a viable member of this organization. He's very talented. This organization has plans to use him," Dorsey said during a Tuesday appearance on 92.3 The Fan.
Given how easily running backs get hurt in the league, I can't blame the Browns for not wanting to let one of their best players go.
Odds are, Chubb or Hunt will get hurt at some point. Plus, Kareem Hunt can't play for the first eight games of the season after getting suspended.
Players can demand trades all they want. Doesn't mean for a single second the team has to oblige them. If I was in Dorsey's shoes, I wouldn't move him either.
The Browns have him cheap, he's young and it'd be really dumb to dump him with Hunt suspended for half the season. I rarely agree with anything the Browns do, but keeping Johnson around to help Baker Mayfield's offense is a smart move.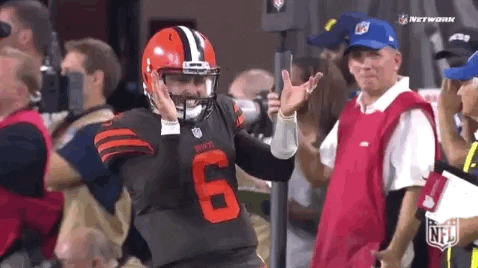 Smart move, Cleveland. Smart move.
Tags : baker mayfield cleveland browns national football league

© Copyright 2010 – 2018 | The Daily Caller