Facebook has announced that it is permanently banning a number of people from its platform for being "dangerous."
These include right wing conspiracy theorists and white nationalists like Alex Jones, Milo Yiannopoulos, Paul Nehlen, Paul Joseph Watson, and Laura Loomer, as well as infamous left-wing anti-Semite Louis Farrakhan. Accounts belonging to these people were also permanently banned from Instagram.
Here's what we know
In a statement on Thursday to CNN Business, Facebook said:
We've always banned individuals or organizations that promote or engage in violence and hate, regardless of ideology. The process for evaluating potential violators is extensive and it is what led us to our decision to remove these accounts today.
Facebook said that the individuals it was banning posted content that was "dangerous."
Some of these people, including Jones and Yiannopoulos, had been banned from Facebook before but only temporarily. Twitter has also suspended accounts for Jones, Yiannopoulos, and Loomer. Jones's conspiracy-laden outfit Infowars is also banned from both Facebook and Instagram.
Although Facebook has faced accusations in the past that the social media giant is biased against conservatives, the company said that it relied on a number of criteria including calls for violence, slurs, and violation of hate speech rules in order to make this decision.
What else?
The Washington Post version of this story initially, and erroneously, listed Farrakhan as being "far right." The headline has since been updated, but a screenshot of the original headline can be viewed below, with words underlined for emphasis.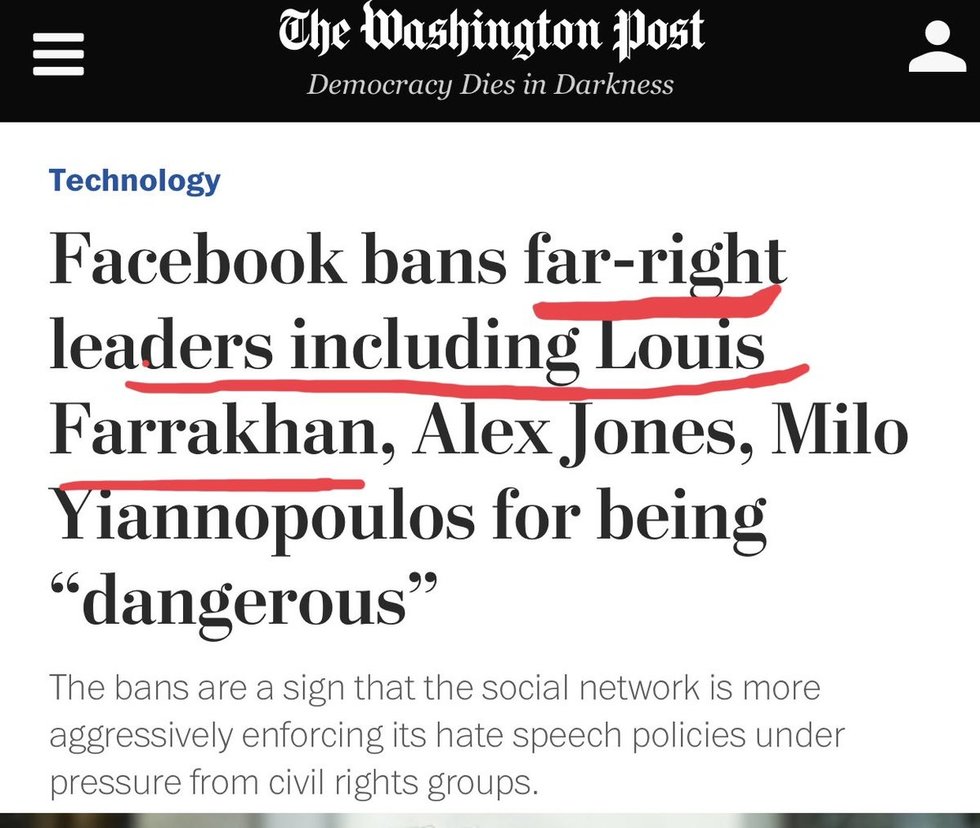 Image source: Washington Post screenshot
The updated headline reads "Facebook bans extremist leaders including Louis Farrakhan, Alex Jones, Milo Yiannopoulos for being 'dangerous'."

Image source: Washington Post screenshot
After first stealth editing the headline, the Washington Post has since issued the following update:
Correction: Louis Farrakhan is an extremist leader who has espoused anti-Semitic views. An earlier version of this story and headline incorrectly included him in a list of far-right leaders.
Farrakhan, the leader of the Nation of Islam, has a long and well-documented history of blatant anti-Semitism. In October, he tried to defend his previous his anti-Jewish comments by saying he "wasn't an anti-Semite" he was "anti-Termite." This comment was quickly criticized by people from both sides of the political aisle for being incredibly anti-Semitic. Twitter, however, refused to take down his comments.
Farrakhan also has a long history of affiliating with prominent members of the Democratic Party, including Barack Obama in 2005 and, much more recently, Women's March leaders Tamika Mallory and Linda Sarsour and former Attorney General Eric Holder.