'):""},t.getDefinedParams=function(n,e){return e.filter((function(e){return n[e]})).reduce((function(e,t){return l(e,(function(e,t,n){t in e?Object.defineProperty(e,t,{value:n,enumerable:!0,configurable:!0,writable:!0}):e[t]=n;return e})({},t,n[t]))}),{})},t.isValidMediaTypes=function(e){var t=["banner","native","video"];if(!Object.keys(e).every((function(e){return s()(t,e)})))return!1;if(e.video&&e.video.context)return s()(["instream","outstream","adpod"],e.video.context);return!0},t.getBidderRequest=function(e,t,n){return c()(e,(function(e){return 0t[n]?-1:0}};var r=n(3),i=n(91),o=n.n(i),a=n(11),c=n.n(a),u=n(8),s=n.n(u),d=n(10);function f(e){return (function(e){if(Array.isArray(e)){for(var t=0,n=new Array(e.length);t
")})(r,a,e),u={requestId:f[n],cpm:o/100,width:c,height:s,ad:d,ttl:600,creativeId:r,netRevenue:!0,currency:"USD",hb_bidder:"fan",fb_bidid:e,fb_format:a,fb_placementid:r};if(S(a)){var l=T();u.mediaType="video",u.vastUrl="https://an.facebook.com/v1/instream/vast.xml?placementid=".concat(r,"&pageurl=").concat(l,"&playerwidth=").concat(c,"&playerheight=").concat(s,"&bidid=").concat(e),u.ttl=3600}return u}))},transformBidParams:function(t,n){return Object(y.convertTypes)({placementId:"string"},t)}};Object(r.registerBidder)(s)}},[199]);
pbjsChunk([0],{329:function(e,r,t){e.exports=t(330)},330:function(e,r,t){"use strict";Object.defineProperty(r,"__esModule",{value:!0}),t.d(r,"spec",(function(){return b}));var w=t(0),n=t(2),I=t(3),a=t(331),i=t.n(a),o=t(333),s=t.n(o),d=t(1);function P(e){return(P="function"==typeof Symbol&&"symbol"==typeof Symbol.iterator?function(e){return typeof e}:function(e){return e&&"function"==typeof Symbol&&e.constructor===Symbol&&e!==Symbol.prototype?"symbol":typeof e})(e)}var p=[n.b],f=100,c=35,m=!0,y={JPY:1};function u(e){return i()(e)&&2===e.length&&s()(e[0])&&s()(e[1])}var b={code:"ix",supportedMediaTypes:p,isBidRequestValid:function(e){if(!u(e.params.size))return!1;if(!(function(e,r){if(u(e))return e[0]===r[0]&&e[1]===r[1];for(var t=0;tr(e)?t:e}))})(t.strData.sizes)),[{requestId:t.data.bidId,width:s[0],height:s[1],cpm:n.cpm,creativeId:n.creative.creative_key,dealId:n.creative.deal_id,currency:"USD",netRevenue:!0,ttl:360,ad:(function(e,t){var r="str_response_".concat(t.data.bidId),n='n
n
n
David Hookstead | Reporter
Former Denver Broncos quarterback Chad Kelly is getting another shot in the NFL with the Indianapolis Colts.
Mike Chappell tweeted out a photo of the Colts roster for the team's rookie mini-camp, and the former Ole Miss star was on it. (RELATED: Jim Kelly Encourages Former Broncos QB Chad Kelly As He Works On A Comeback)
Kelly hasn't played in the NFL since the Broncos cut him after he was charged with trespassing in Colorado.
#colts roster for rookie mini camp pic.twitter.com/Ogsp2Np7Ew

— Mike Chappell (@mchappell51) May 3, 2019
It might only be a rookie mini-camp, but it's better than nothing for Kelly. He's got the talent to play in the NFL, but the off-the-field issues clearly were just too much for the Broncos to deal with.
The question now will be whether or not he's capable of doing enough to impress the Colts for a roster spot. He's got a long road ahead of him, but he might have a shot if he can pull it all together.
He was an incredibly exciting player to watch in college, and his dual-threat skill  set fits with the way the quarterback position is trending in the NFL.
I love a great comeback story. There's nothing more American than crawling out of a dark hole and finding success.
We'll have to wait and see if Kelly has enough in the tank to get the job done.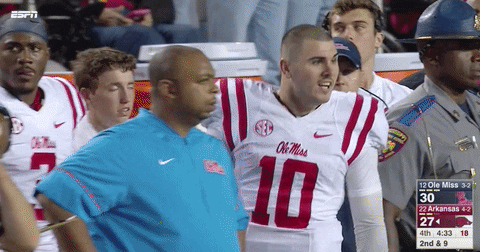 Tags : chad kelly denver broncos indianapolis colts national football league

© Copyright 2010 – 2018 | The Daily Caller