Avoiding spoilers won't be as difficult as troops stationed in Afghanistan and Qatar may have feared, now that The Walt Disney Company surprised them with a special Bagram Air Base screening of Avengers: Endgame.
Actually, that should say screenings, plural. Disney had more than one showing for those deployed, and are planning more, they said in press release on Friday. They started at Bagram in Afghanistan and Al Udeid in Qatar mid-week, and are expanding to Kandahar over this weekend and even to the embassy in Kabul in the coming days.
Disney singled out a Twitter user for having inspired CEO Bob Iger to take the film to the troops.
Disney Chairman and CEO Bob Iger was inspired by a social media post from Kat Lancaster, a Disney fan whose husband, Air Force Major Joshua-Lee Lancaster, is currently deployed. Iger and Disney reached out to the Army & Air Force Exchange Service, and a plan was put into action to bring Avengers: Endgame to the biggest American bases in the region.
Lancaster is a dedicated Disney fan, and she and her husband Air Force Maj. Joshua-Lee Lancaster are big fans of the Marvel films. Lancaster was planning to wait to see the film, and dodge spoilers, until her husband returned to the states. But when she saw the opportunity to Tweet Iger, she took it.
Here is the tweet that got the ball rolling:
Iger replied that he would check, and just a half hour later, it was a done deal.
"We're thrilled to be able to do something special for our troops in Afghanistan, to boost morale and show our gratitude for their service," said Iger in the company's press release. "I'm grateful to Kat Lancaster for the great suggestion, and to the Army & Air Force Exchange Service for helping us make this happen."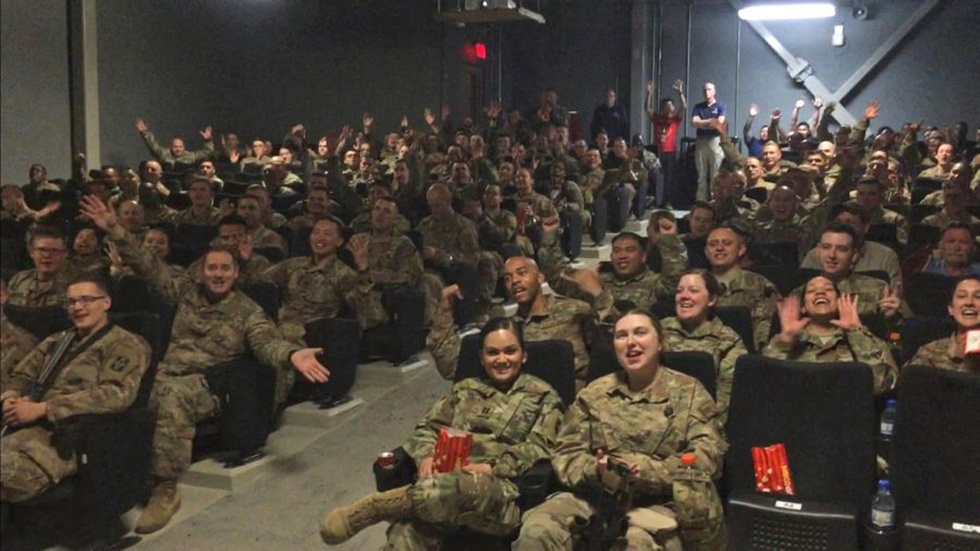 Troops deployed to Bagram Air Field, Afghanistan, await the movie "Avengers: Endgame" on May 1, 2019.(Photo by Area Support Group – Afghanistan on Facebook)
On Twitter, Lancaster expressed her gratitude. "I'm overwhelmed by this gesture and my heart is full. So often our deployed members are left out of cultural moments while they risk their lives for us," she wrote. "This gift from the @WaltDisneyCo is sure to bring sheer joy and a small moment of escape from the realities of war. Thank you."