Far-left Pennsylvania state Rep. Brian Sims (D) sure has guts.
You might remember Sims from his Twitter photo giving Mike Pence a middle finger leading up to the vice president's
visit to Philadelphia last June to campaign for Pennsylvania's GOP gubernatorial nominee Scott Wagner: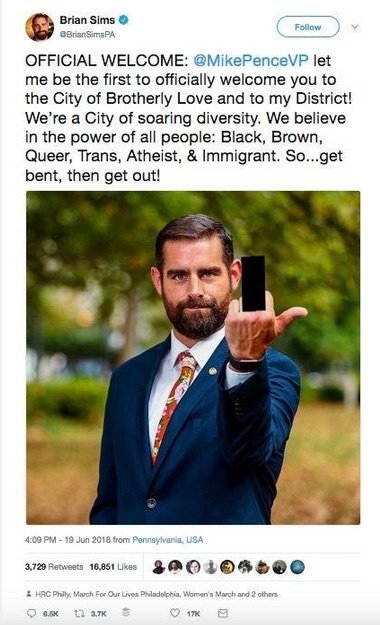 Image source: Twitter
No, Sims didn't flip off Pence to his face. And the reason why is beginning to make sense.
It now it appears Sims — who was a 6-foot, 250-pound lineman for Pennsylvania's Bloomsburg University and "the the only college football captain to ever come out as gay,"
ESPN said — is targeting way less imposing foes.
Try an "old white lady" who appeared to be saying the rosary in front of a Planned Parenthood last week at 11th and Locust streets in Philadelphia.
That's right. Sims — who represents Pennsylvania's 182nd District — armed himself with a cellphone camera and Periscoped a nearly 9-minute video of himself repeatedly harassing the woman, who appeared to be by herself and praying in front of the abortion facility.
"Push back against Planned Parenthood protestors, PLEASE!" Sims' text with the video reads. "They prey on young women, they use white privilege, & shame. They're racist, classist, bigots who NEED & DESERVE our righteous opposition. Push back, please!"
What did Sims say?
Sims walked up to the woman and began recording video of her. She initially stayed silent, turning away from the elected official's attacks.
"You're allowed to be out here," Sims told her, "but that doesn't mean that you have a moral right to be out here. … What you're doing here is disgusting; this is wrong. You have no business being out here."
Sims kept stalking her while she held on to her rosary, trying to get a reaction. "Shame on you, ma'am!"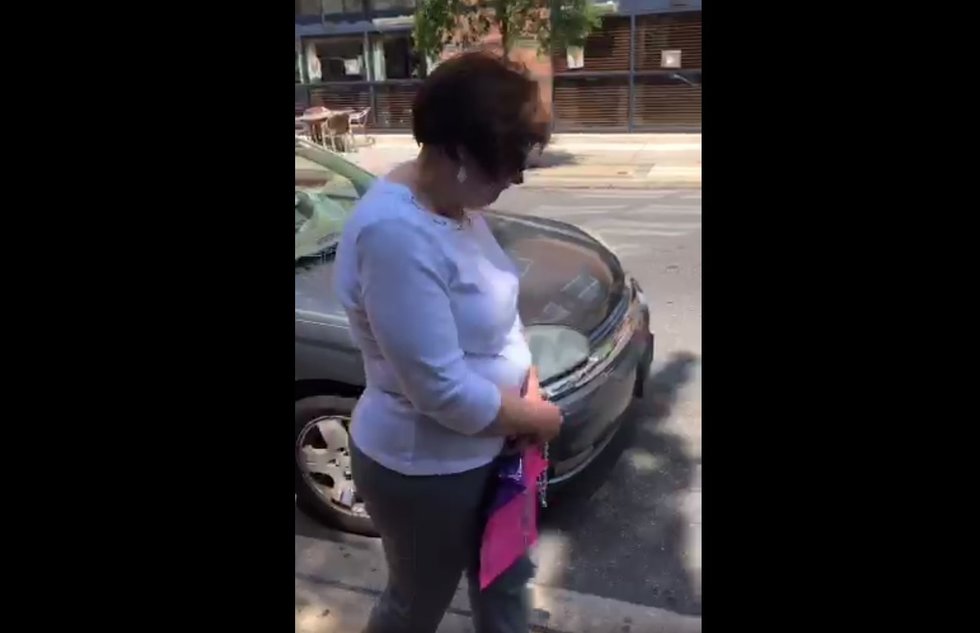 Image source: Twitter video screenshot
"How many children have you clothed today?" Sims asked her. "I'm sorry, I missed your answer. How many children have you clothed today? How about how many children have you put shoes on their feet today? Have you fed any children today? Or have you just stood out in front of a Planned Parenthood shaming people for something they have a constitutional right to do?"
He added, "If you're here about the children, you can pray at home for children. It's probably the same place you could feed a child, but you're not. … Who would have thought that an old white lady would be out in front of a Planned Parenthood telling people what's right for their bodies. Shame on you. Shame on you for hiding your face at the same time that you're shaming other people."
Sims also called the woman's actions "extremely racist" and "grotesque" while he petitioned viewers several times to donate money to the Planned Parenthood clinic.

"We can talk about your Christian faith," he continued. "About how your Christian faith believes in shaming people. There's no faith that tells you you are right and everybody else is wrong."
Finally, the woman had enough and told Sims to "get out of my face. Get your camera out of my face."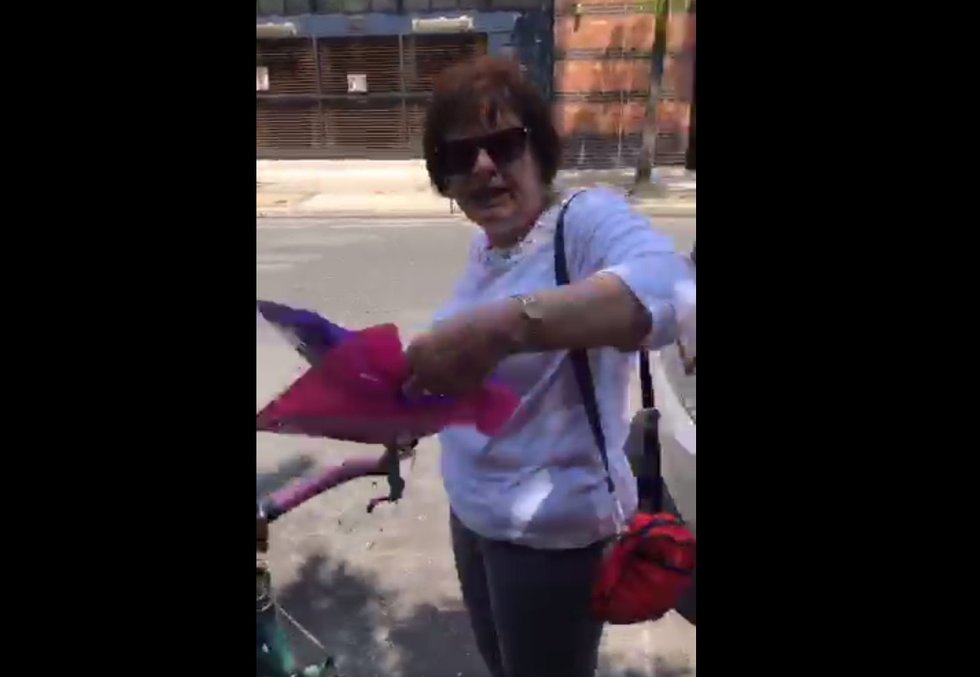 mage source: Twitter video screenshot
Sims refused, saying he has the same rights as she does and then suggested a protest "in front of her house" while daring her to call police. "I know cops around here," he added.
He also said the woman will "support a faith that has molested children across the planet."
Check it out:
What was the reaction?
Live Action tweeted a message to Periscope that Sims' "broadcast violates your rules on abusive behavior. He is harassing, intimidating and using fear to silence this sweet elderly woman."
And after Live Action posted its tweet showing Sims' video, he shot back at the pro-life outfit:
"Bring it, Bible Bullies!" he tweeted Sunday in a decidedly "ratioed" post where in which replies far outnumber likes. "You are bigots, sexists, and misogynists and I see right through your fake morals and your broken values."
As you might expect, some of the comments weren't too kind to Sims:
"There's nothing more misogynistic than what you did to that woman."
"It really is too bad that guys like this continue to get elected, people gotta be more careful who they put in their state legislatures. He is a phony hypocrite for sure."
"This was an abuse of power."
"'You're a bully,' says the guy livestreaming himself harassing a woman on the sidewalk."
"Yes, I think using one's size, bearing, relative youth, and political status to get in the face of an older woman expressing her legal views is exactly the way to bring peace, justice, and love to this world."
"Shame on you man. She has balls bigger than you."
(H/T:
The American Mirror)