During a wide-ranging conversation Tuesday, "The View" co-host Meghan McCain confronted Seth Meyers on his late night talk show for seemingly defending Rep. Ilhan Omar's rampant anti-Semitism.
What happened?
After the Chabad of Poway synagogue shooting last month, McCain told ABC's George Stephanopoulos that Omar's rhetoric should be in the conversation about the dangers of extremism because Omar's brand of anti-Semitism is stirring radical anti-Jewish sentiments on the progressive far-left.
Meyers claimed McCain tied Omar to the synagogue shooting, condemning the action as "dangerous" because Omar has received death threats. Meyers also rebuked McCain for continuing to criticize Omar after she apologized for her tweets.
"Don't you think people who talk about her need to be a little bit more thoughtful as well? Or do you stand by those comments of tying her rhetoric to the synagogue shooting?" Meyers asked.
After back-and-forth, McCain responded, "I stand by every single thing I've said, and if that makes me unpopular in this room or in front of you, so be it."
"Well, I don't… See, that's a weird thing, that you can take the position of trying to be 'unpopular.' Here I am trying to find the common ground on this," Myers replied.
Then McCain interjected, "Were you bothered by her language about 9/11?"
"I thought it was taken out of context, and I think if you watched that whole speech…" Meyers replied.
"Would you give President Trump the same leverage if he had said the same thing?" McCain fired back.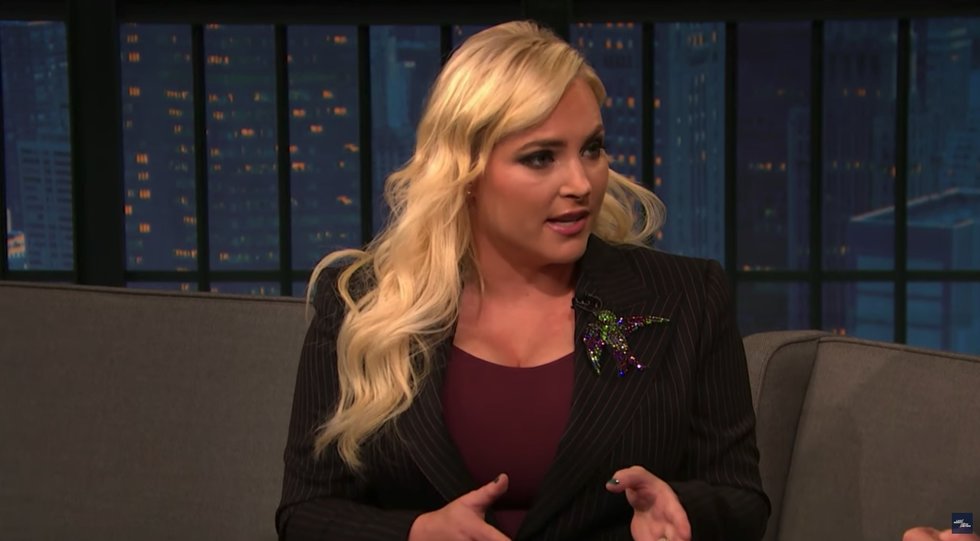 Image source: YouTube screenshot
Completely ignoring McCain's question, Meyers explained that he believes there is a fundamental difference between Omar and President Donald Trump: that Omar has apologized for offensive rhetoric while Trump has not.
What else?
Moving the conversation along, Meyers asked McCain if criticizing Israel is fair without such criticism being framed as anti-Semitism, a common defense of Omar's anti-Jewish rhetoric.
"Yeah. I just think you can't talk about Jews 'hypnotizing' the world, talking about 'All About the Benjamins,'" McCain said.
"You do keep bringing up the two tweets that she's apologized for, and I think that's a little unfair to her," Meyers interrupted.
"Are you her publicist?" McCain shot back. "Are you her press person?"
Meyers responded: "No. I'm just someone who cares about the fact that there's someone out there who is in a minority, who has had death threats against her, and I think that we should all use the same language. You're asking her to be careful about her language and I'd ask everyone to be careful about theirs."

Meghan McCain Is Disappointed by Senator Lindsey Graham's Attachment to Trump

youtu.be