A Muslim imam, who has repeatedly blasted Israel and backed Palestinians, gave the opening prayer for the U.S. House of Representatives last week after a Democrat's invitation.
Rep. Eddie Bernice Johnson (D-Texas) invited Imam Omar Suleiman, founder and president of the
Yaqeen Institute for Islamic Research, to serve as the congressional guest chaplain Thursday. House Speaker Nancy Pelosi (D-Calif.) introduced Suleiman before his opening prayer.
What did Suleiman pray?
"We pray for peace, not war. Love, not hate. Benevolence, not greed. Unity, not division. And we commit ourselves to not betraying our prayers with actions that contradict them," he prayed. "Let us not be deterred by the hatred that has claimed the lives of innocent worshipers across the world."
But his prayer appeared to stand in stark contrast to statements he's previously made, particularly about Israel and Palestinians.
What do we know about Suleiman?
Last year, he referred to "Apartheid Israel" getting "American funding and cover, continues to terrorize with impunity." Suleiman's
Facebook post added: "They will continue to resist. They will continue to march. They will continue to demand their freedom. And so will we. By any means necessary."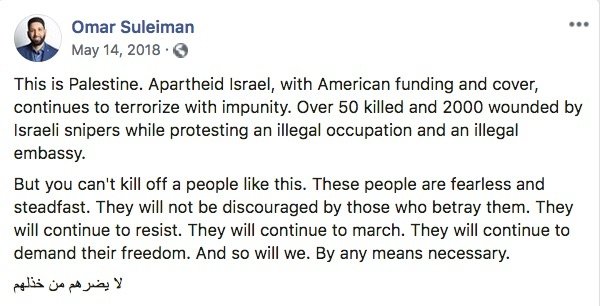 Image source: Facebook
According to
World Israel News, Suleiman in 2014 posted a Facebook message as the war in Gaza commenced, saying "how befitting that the 3rd Intifada starts on the 27th night of Ramadan as worshipers are denied prayer in Masjid Al Aqsa. …God willing on this blessed night as the 3rd Intifada begins, the beginning of the end of Zionism is here. May Allah help us overcome this monster, protect the innocent of the world, and accept the murdered as martyrs. ameen."
Suleiman also has referred to "Zionists" as "enemies of God."
The
Washington Examiner noted the following messages from Suleiman — but it appears they've all been deleted from Twitter:
How ironic: Israel bombs the Egypt-Gaza border, that Sisi shut on the Palestinians as they were being massacred,…
http://t.co/C09Ectjtmb
— Omar Suleiman (@omarsuleiman504)
July 30, 2014
Last year Ramadan was marked by Israel's massacre of innocent Palestinians. I sincerely hope this isn't going to…
http://t.co/Ub0lNhW9NA
— Omar Suleiman (@omarsuleiman504)
May 27, 2015
How to make money off of an illegal occupation. Apartheid sells in Israel.
https://t.co/a8YfVottNp
— Omar Suleiman (@omarsuleiman504)
October 30, 2016
Israel-Palestine is not a war. It's an occupation of a people that has resulted in decades of humiliation/oppression.
pic.twitter.com/yNqCw0Y7F0
— Omar Suleiman (@omarsuleiman504)
June 25, 2014
Brian Eno: "Funding Israel is like sending money to the KKK."
#FreePalestine #SaveGaza #SupportGaza #ICC4Israel http://t.co/GRVncne3Lu
— Omar Suleiman (@omarsuleiman504)
August 3, 2014
#faithwashing No need to sit and talk while you commit ethnic cleansing/genocide against my people

— Omar Suleiman (@omarsuleiman504)
January 4, 2015
He's also
defended controversial U.S. Rep. Ilhan Omar (D-Minn.), who has been accused of making anti-Semitic statements.
Not surprisingly, Omar lauded Suleiman's prayer Thursday:
Oh, and so did Shariah-law loving Linda Sarsour:
What was the reaction to Suleiman's invitation?
U.S. Rep. Lee Zeldin (R-N.Y.) blasted Pelosi for allowing Suleiman's invitation to go through:
Did Suleiman have anything else to say?
Suleiman fired back at criticism against him with a Sunday op-ed in the Dallas Morning News in which he said "I've never attacked the Jewish community or peddled conspiracies about it." While he admitted saying "regretful" things in the past, Suleiman also declared that "one thing I've never been is anti-Semitic."
Here's the clip of the U.S. House prayer:

Imam Omar Suleiman Delivers Opening Prayer in US House of Representatives

youtu.be