Amid the United Kingdoms efforts to
stem the tide of knife attacks — some of which has resulted in widespread mockery — one police department is getting hammered for a Twitter photo.
In a Tuesday post, the Regents Park Police force said it "conducted weapons sweeps, dealt with a person injured from a van reversing on them, reported a burglary, and collected all these from @scope
charity shop who diligently didn't want them to get into the wrong hands & disposed of correctly & safely."
No, your eyes don't deceive you. Among the objects in the photo is a spoon — and that fired up the ire of journalist Tim Pool, who mercilessly called out police: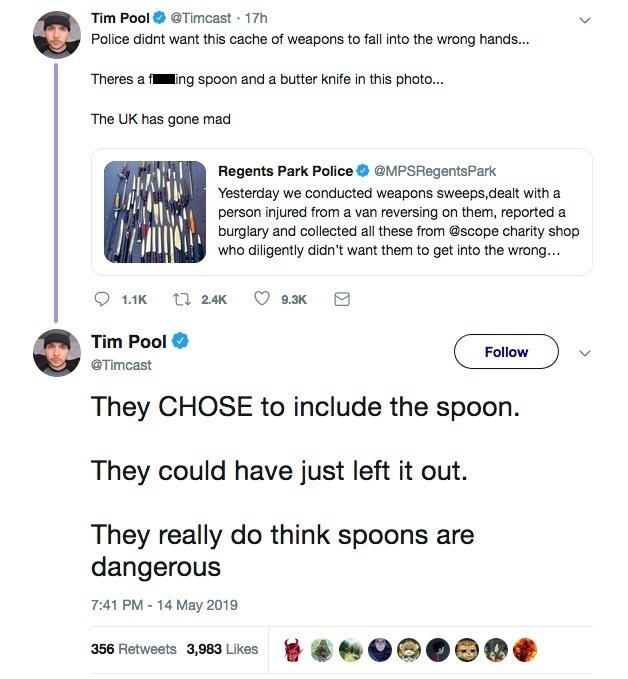 Image source: Twitter, redacted
"Police didn't want this cache of weapons to fall into the wrong hands … There's a f***ing spoon and a butter knife in this photo … The UK has gone mad," he wrote, adding that the cops "CHOSE to include the spoon. They could have just left it out. They really do think spoons are dangerous."
It's not exactly clear which object is a butter knife, but the spoon is there for all to see.
What did others have to say?
As you might expect, the police force's ratioed post — with comments far exceeding likes — attracted reactions that were arguably even funnier than the spoon in the photo:
"Every day I'm thankful for 1776 and the Revolutionary War."
"Thank you, you've drastically reduced the amount of homicides committed with spoons and honing rods. Keep up the good work, boys."
"I see two sharpening steels in this picture. Thank FSM they didn't fall into the wrong hands."
"So glad the public is safe now, but how do they cut their food? And the letter opener!?!"
"I really, really want to believe that crooks in the UK hold up convenience stores with fencing foils. I imagine they also wear top hats and monocles."
"Admit it. That spoon looks mighty vicious."
"A spoon? You guys are doing the Lord's work."
"Once more, tomatoes are safe from being sliced due to your brave sacrifices. The men who won the Battle of Britain would look upon your courage with awe."