DC Comics may not have Marvel's "Cinematic Universe" chops, but the film Wonder Woman was a huge and empowering hit among progressives and conservatives alike. But the fandom for the female aspirational figure may have gone too far, for some.
The iconic heroine lived up to her name, and hype, in the Gad Gadot film that is third among all DC films at the box office–and for perspective just remember how many Batman films there have been over the years. But that popularity, and her role as a feminist icon, don't make her image public domain. Which is exactly why DC sent a cease and desist letter recently regarding a depiction of freshman Democrat Rep. Alexandria Ocasio-Cortez.
AOC, as she is popularly initialized, is to her fans, and seemingly in her own eyes, a social media Wunderkind. But that, too, doesn't make her Wonder Woman, an image that is the property of the comic company. Which makes it a strange choice that the makers of the AOC comic book — and yes, that is sadly a real thing–depicted her as the DC star on a cover of their comic.
Devils Due Comics produced "Alexandria Ocasio-Cortez & The Freedom Force: New Party, Who Dis?" and with that publication, the first in a series the publisher said, produced a number of variant covers. And a picture of the congresswoman as Wonder Woman, draped in the flag, in a classic pose.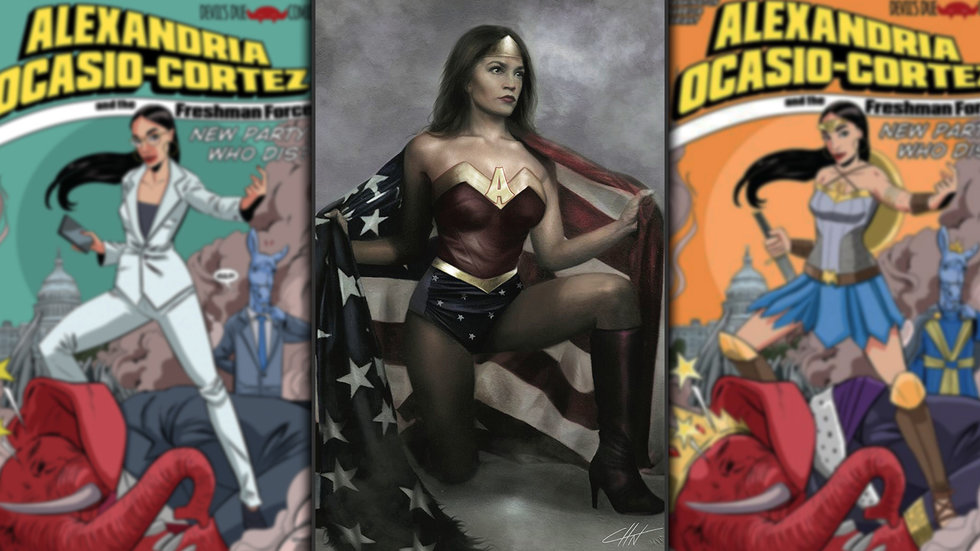 That special cover, center above, was commissioned for the NY Collector's Cave, reported Bleeding Cool, and had a tiny print run of only 250. But the article caught a lot of buzz and, thereby, the attention of the comics giant.
Bleeding Cool followed up on Friday, only two day's after the first post, stating that the comic cover "in which AOC bears a stunning resemblance to Wonder Woman" was gretting the lawyer treatment.
Too stunning it seems for DC Comics whose legal team, after reading the article on Bleeding Cool (Warner Bros IP traffic spiked in the days after we posted that article), sent a cease-and-desist notice to DEvil's Due and the NY Collector Cave demanded that the comic in question not be distributed, but recalled and returned or destroyed.
But by that point, the horse had already bolted. The exclusive retailer covered comic had been printed, to a limited cover print run of 250, and sold to many a collector. And anyone trying to resell the comic has also been hit with a similar notice
Emily Zanotti, writing at the Daily Wire, notes that this small run is now an endangered artifact because the company celebrating her Democratic socialism is actually fully capitalist. But that same capitalist blade cut in her favor, too.
"Thanks to capitalism — something the Congresswoman in question regularly derides — the threat of a DC Comics lawsuit has turned the AOC/Wonder Woman book from a novelty into a collector's item," wrote Zanotti.
Yes, what may have gone down as a silly indulgence will now become a precious and valuable comic collectible. Because you can't spell commodity without oddity, assuming you aren't very good at spelling.
Oh, and the ones that got out before the lawyers? Already for sale on EBay. You gotta love capitalism.
By the way, it's not just AOC. They also have a Bernie Sanders comic. He's He-Man on that cover. No, seriously.