Do you purchase items online using an account linked to a Gmail email account? If so, chances are that Google is tracking and archiving your online purchases.
What are the details?
In an age of technology giants and privacy concerns, CNBC reported last week that Google tracks your online purchases through a page called "Purchases" — even when your transactions are completely unrelated to Google.
Have a Gmail account? Go to https://myaccount.google.com/purchases to see your list of purchases that Google has archived for you.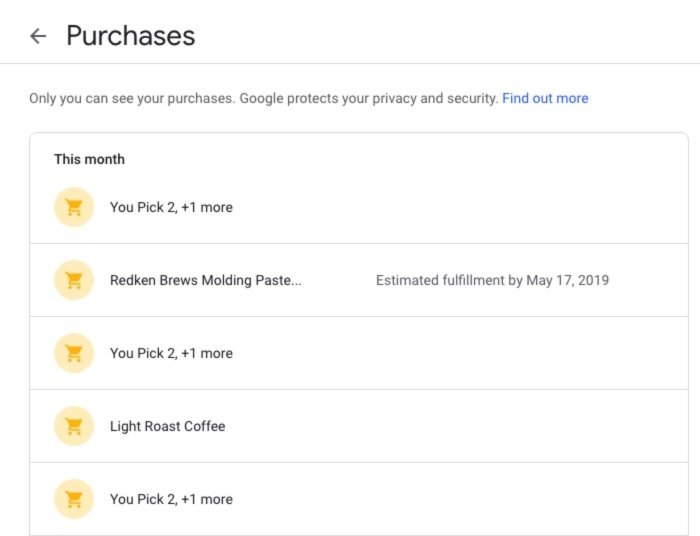 Image source: Screenshot
According to Google Support, all purchases made through Google Services are included on the list. The list also logs purchases not made through Google, but that result in a digital receipt being sent to your Gmail account.
"To help you easily view and keep track of your purchases, bookings and subscriptions in one place, we've created a private destination that can only be seen by you," a Google spokesperson told CNBC. "You can delete this information at any time. We don't use any information from your Gmail messages to serve you ads, and that includes the email receipts and confirmations shown on the Purchase page."
How do you turn off purchase tracking?
Google claims it's easy to turn off purchase tracking, but in reality, it's much more difficult than Google says. To remove a purchase from the list, you must manually delete the accompanying email message.
Unfortunately, when it comes to Google archiving the data itself, turning off that feature is even more difficult. From CNBC:
Google's privacy page says that only you can view your purchases. But it says "Information about your orders may also be saved with your activity in other Google services " and that you can see and delete this information on a separate "My Activity" page.

Except you can't. Google's activity controls page doesn't give you any ability to manage the data it stores on Purchases. Google told CNBC you can turn off the tracking entirely, but you have to go to another page for search setting preferences. However, when CNBC tried this, it didn't work — there was no such option to fully turn off the tracking.
In an era fraught with privacy concerns as massive technology conglomerates continue to collect data on unsuspecting users, the question remains: If Google doesn't sell your data to advertisers, why does it need to archive your online purchases?