One kitchen towel design showed a great white shark emerging from the ocean accompanied by the phrase, "Nice to Eat You."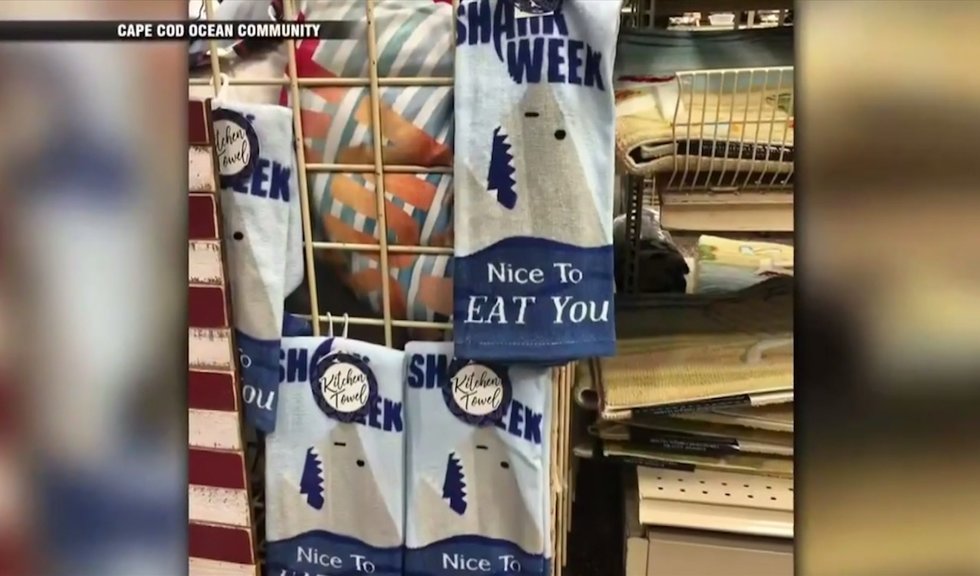 Image source: WHDH-TV video screenshot
Another towel used the phrase, "Send More Tourists, the Last Ones Were Delicious"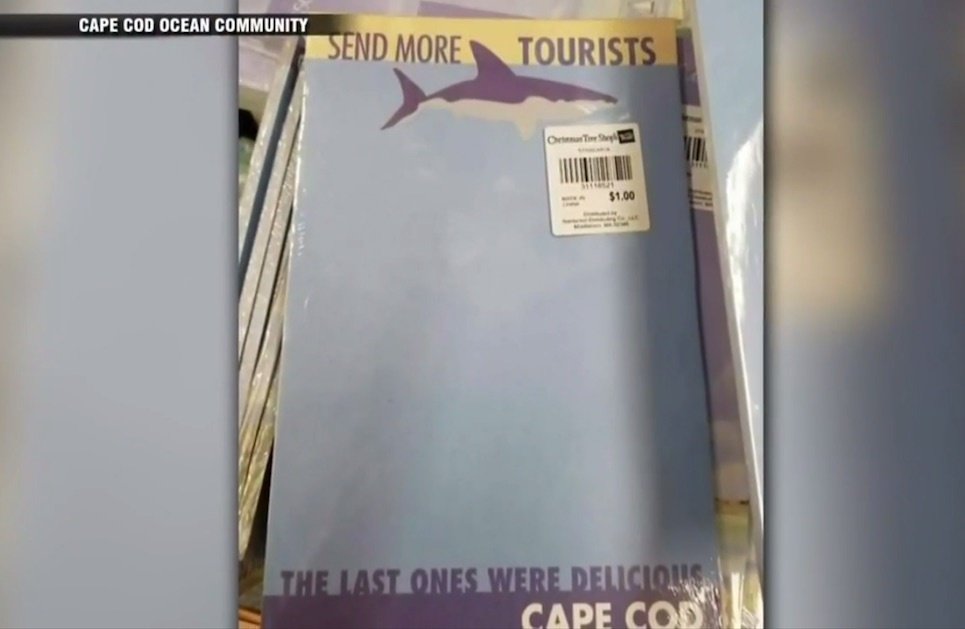 Image source: WHDH-TV video screenshot
T-shirts read "Come to the Shark Side of Cape Cod" as well as "Cape Cod, Massachusetts – Dangerous Summer – Shark Patrol," CapeCod.com said.
The items were being marketed by retail chain Christmas Tree Shops, and
CapeCod.com added that some "directly depict and mock shark attacks on humans, a nod to the two great white shark attacks on people last year at beaches in Truro and Wellfleet."
'It really bugs me'
The outlet reported that a number of Cape Cod residents expressed outrage over the items and complained.
"It was about eating people, you know, stuff like 'it tasted good I can't wait for the tourists to come back again,'" Edward "Shred" Hathorne told CapeCod.com. "It really bugs me because I've been a lifelong resident of Cape Cod, a surfer, been in the water all my life. I think it's pretty tragic the guy got eaten by it, and they're using that as propaganda to make money."
More from the outlet:
The two attacks on the Cape last year were separated by exactly one month. On August 15, a 61-year-old New York man was bit [sic] at Long Nook Beach in Truro and was rushed to a Boston hospital in serious condition. He has since recovered.

On September 15, 26-year-old Arthur Medici, of Revere, was fatally attacked while surfing at Newcomb Hollow Beach in Wellfleet. He was pronounced dead upon arrival to Cape Cod Hospital. It was the first fatal shark attack in Massachusetts since 1936, when a shark killed a man in Mattapoisett.
"It's kind of hitting a little too close to home," Hathorne added to CapeCod.com. "It's a pretty touchy subject around here, and I think if one more person gets killed I think this place is done — Cape Cod in general. There's been a lot of changes and they're not really doing a lot out here. We're relying on tourism and stuff like that, and we already hear that it's down. People are afraid of the sharks, and we're actually trying to let people know that the sharks aren't that bad."
How did Christmas Tree Shops respond?
Christmas Tree Shops pulled the shark-related merchandise from all Cape Cod locations, the outlet said.
"It is never our intention to offend customers by our merchandise assortment," Jessica Joyce, senior manager of public relations for Bed Bath & Beyond — Christmas Tree Shops' parent company — said in a statement to CapeCod.com.
"We understand our vast and diverse customer base consists of people with many different views and sensibilities which sometimes get reflected in their shopping preferences," Joyce added to the outlet. "We appreciate all customer feedback and understand this is a sensitive issue toward which many people have different feelings."