The Navy is investigating if service members violated Defense Department policy by wearing a patch on their uniforms with the words "Make Aircrew Great Again" and an image of President Donald Trump, The
Associated Press reported.
The phrase is an altered form of Trump's 2016 campaign slogan, "Make America Great Again." The service members in question were aboard the USS Wasp, which Trump visited Tuesday during his Japan trip, the AP said.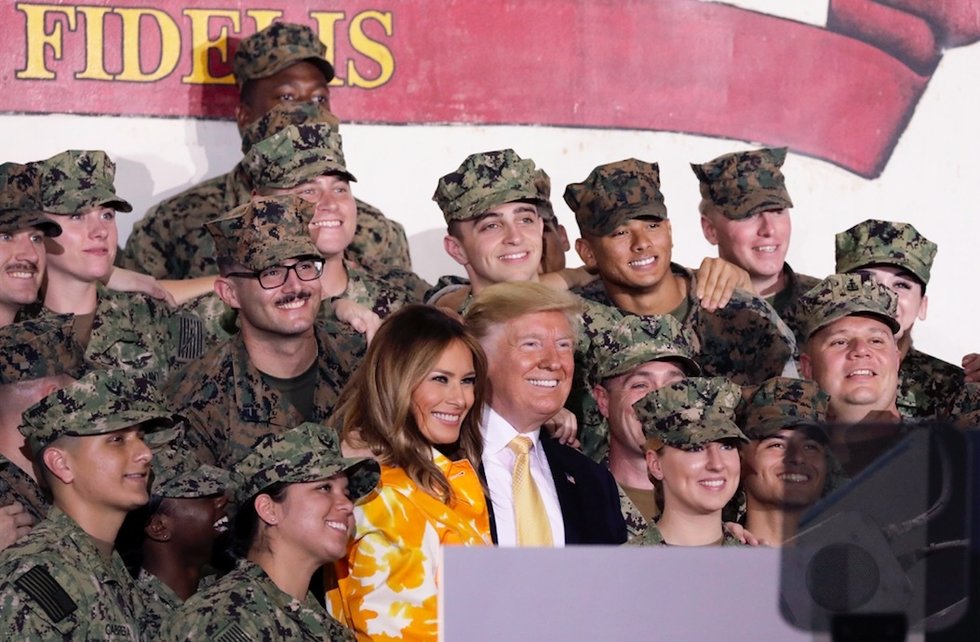 President Donald Trump and first lady Melania Trump with U.S. military personnel aboard the USS Wasp in Japan on May 28, 2019.Photographer: Kiyoshi Ota/Bloomberg via Getty Images
The military has dress codes and regulations against partisan political acts while in uniform, the outlet said, adding that the Navy said in a statement Tuesday that the issue was under review to ensure that the uniform patch doesn't violate policy or regulations.
How are people reacting?
Wall Street Journal White House reporter Vivian Salama posted photos on Twitter of the service members wearing the patch, and more than a few commenters were none too pleased:
"They support a 5-time draft dodger with bone spurs? As a vet, I don't get it."
"That's disgusting."
"8 year Navy vet, this makes me want to puke. Nobody is allowed to wear political statements on their uniform nor make them while in uniform. Write these clowns up. Their allegiance is to the Constitution and the American people which they seem to have forgotten."
"Pretty hard to respect the military when they are used as propaganda."
"My grandfather went down with the original USS Wasp, this is a damn disgrace! Please tell me they were reported for this!"
"Call me just a scared Libertarian, but this sure looks like what a process to a dictatorship looks like."
"That is so Third Reich."
But not everybody was irked. One user commented: "This is awesome!! Thank you boys for your service and positive patriotism!! May God Bless America!!"