Despite the diverse group of Democratic candidates vying to unseat President Donald Trump in 2020, the Leftist base still isn't happy. The famished "woke" class has begun cannibalizing itself and it's become the Jersey Shore of politics.
Leftist academics thought the notion of "intersectionality" would be good for society, but it's now their Achilles heel. When you're already a social justice progressive and even your wokeness falls short of the ideas the radicals fancy then you're in for a bad day at the beach.
That's because the guarantee of equal outcomes doesn't exist and it never will. There is no such thing as an unsullied utopian commune where everyone is equal all the time. George Orwell's "Animal Farm" is the blueprint for their delusional fantasy yet they refuse to accept the fact that guaranteeing equal outcomes ends the same way every time: with death, destruction, starvation, suspicion, and tyranny.
Remember: "All animals are equal, but some animals are more equal than others."
It's all unfolding right before them. Forums that are targeted toward people who agree and support the Democrats have now become a new heckling ground:
1. BOASTFUL BERNIE: Bernie Sanders gets booed by "Women of Color" for name-dropping Martin Luther King Jr.
2. SILICONE SYMONE: Symone Sanders said in 2016 that Democratic leadership does not need a white man…but she's now Bernie's press secretary.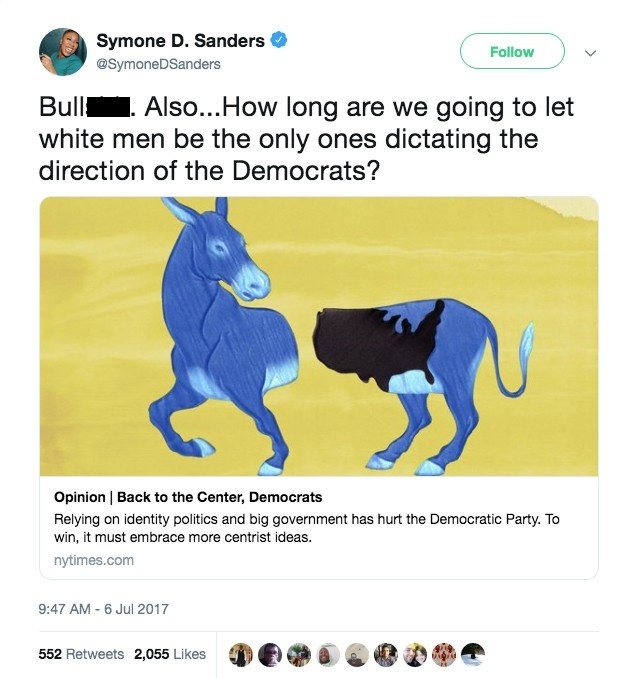 Symone Sanders is now the press secretary for Democratic presidential candidate Bernie Sanders
Twitter/@SymoneDSanders
3. THE ONE-UPPER: Joe Biden promises his climate policies will "go well beyond" anything Obama ever did.
4. THE FLIP FLOP QUEEN: Kirsten Gillibrand' gets hammered for supporting the NRA in 2008.
5. FAUXCOHANTAS: When the world found out Elizabeth Warren wasn't Native American…or a registered Democrat.
6. HELPLESS HARRIS: Leftists urge Kamala Harris to cancel her 2020 Presidential run because she owns a gun.
7. AGENT DIALECT: AOC discovers her new-found dialect in front a predominately African-American crowd.
8. THE WHITE SLIGHT: MSNBC gets dragged online for their "2020 Democrats to Watch" graphic for being too white.
9. THE APOLOGY TOUR: Beto apologizes for his "privileged" campaign reboot on "The View" and his regret over the Vanity Fair cover.
10. SPOILER ALERT: You're polling at 0 percent and won't ever have the chance to exercise the privilege of selecting of female vice president.
11. SOCIALIST SEPARATIST: Presidential candidate John Delaney learned the hard way during a convention in which he is booed for saying Medicare for all isn't good politics.
With all these woke social justice warriors ready to maul each 2020 Democratic presidential in the race, it's a wonder why they bother running at all.
As they say, "May the odds be ever in your favor" because "destroying things is easier than making them."