Editor's note: This story originally posted on February 11, 2019. We have updated the date on the post in order to put it back on our front page because Facebook has blocked our ability to share new posts because, according to them, this story is clickbait. You be the judge.
Amber Pack got concerned when her 8-year-old special-needs girl didn't want to go back to school, so Mom hid a recording device in her daughter's hair in the hopes of getting to the bottom of the issue,
WJLA-TV reported.
And that same day after school, Pack heard the sickening results for herself.
"I oughta backhand you right in your teeth," one instructor at Berkeley Heights Elementary was caught on audio saying. "How's that for anxiety?"
The same instructor (instructor #1) at the Martinsburg, West Virginia, school also was heard saying, "I'll punch you in your face."
A different instructor in the same class (instructor #2) was heard asking, "You gotta go pee pee? Pee pee? Or do you not have to go pee pee, and you just want to go j*** o** in a chair?"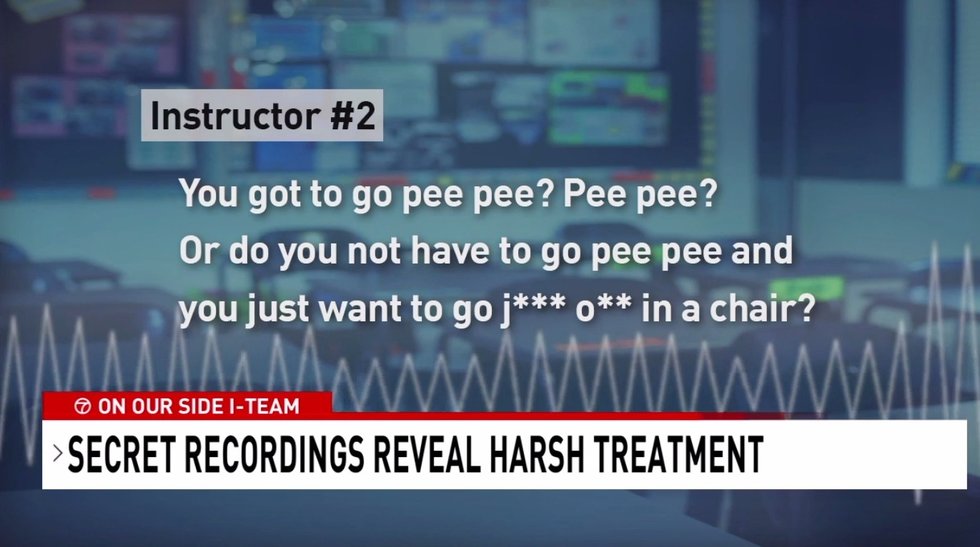 Image source: WJLA-TV video screenshot
There's more that includes yet another instructor, according to audio WJLA shared:
Instructor #2: "I'm gonna pull your hair until you start crying."
Instructor #3: "Don't throw it. Don't throw. You animal you."
Instructor #2: "Yep. You wench."
Instructor #2: "You're like a pygmy. You're like a pygmy thing."

What happened next?
The next day Pack told the school district and Martinsburg police, the station said.
A WJLA reporter asked Pack if she believes this sort of thing had been going on for a while at the school.
"Yes," she replied. "That was the first day I put the recorder in her hair."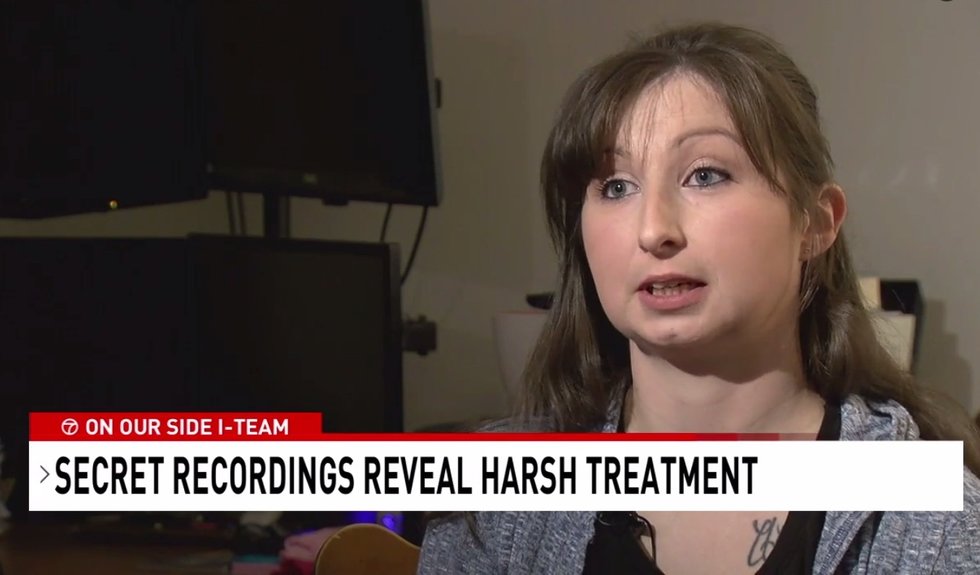 Amber PackImage source: WJLA-TV video screenshot
"One day you recorded all of this?" the reporter asked.
"One day. Eight hours," Pack answered.
What else was heard on the secret audio?
WJLA reported that instructors also were heard singing songs and reading stories to students, but what stood out more were words such as:
Instructor #2: "How your tears dried so quickly, crocodile."
Instructor #3: "And then she wants to destroy everything in sight."
Instructor #2: "I'm a knock you out."

"I couldn't eat for three days … my stomach … I was just so upset," Pack told the station. "And every time I looked at her I would start crying."
Another mother finds out

Kasey Murphy's 6-year old son Owen was in the same class and told WJLA she wasn't alerted about the audio at a parent-teacher conference last October even though Pack already had handed the tape to the school district.
"I've never heard from the principal," Murphy told the station. "Never heard from the superintendent. I've never heard from any of them."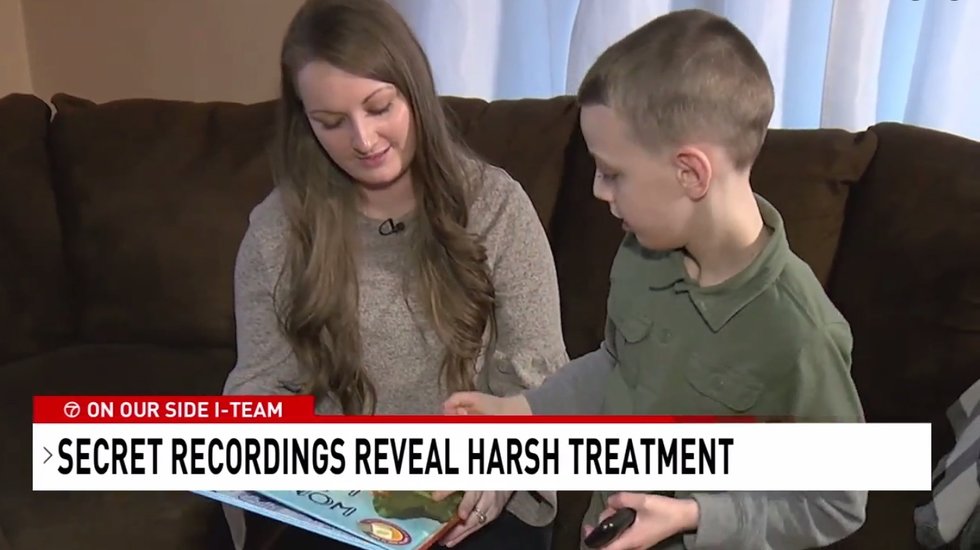 Image source: WJLA-TV video screenshot
And actually it wasn't until November that Murphy found out — after Pack posted a clip of the recording on Facebook, WJLA said.
Instructor #2 was heard saying, "I'm gonna beat your butt for sure, and Owen — you're gonna get one just, just cause," the station said.
"It's sickening," Murphy told WJLA. "Like, people don't even talk to animals like that, and they're talking to nonverbal children who don't understand why they're talking to them like that. They're not doing anything wrong."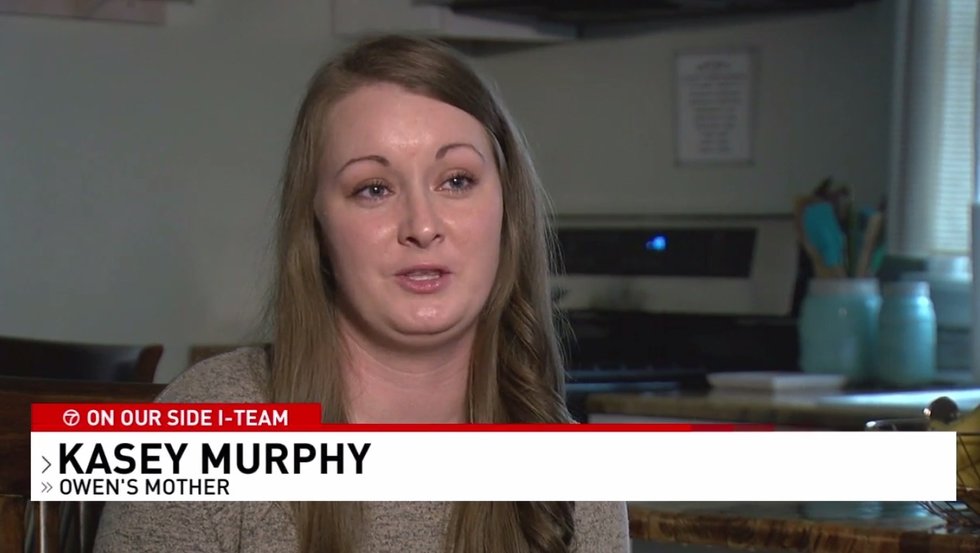 Image source: WJLA-TV video screenshot
On another part of the recording, instructors were heard teasing and refusing to give food to Owen.
"Growl at me. I dare ya, and you won't get one. Go 'head," instructor #1 was heard saying. "There's nothin' says I have to give you a snack. Nothing."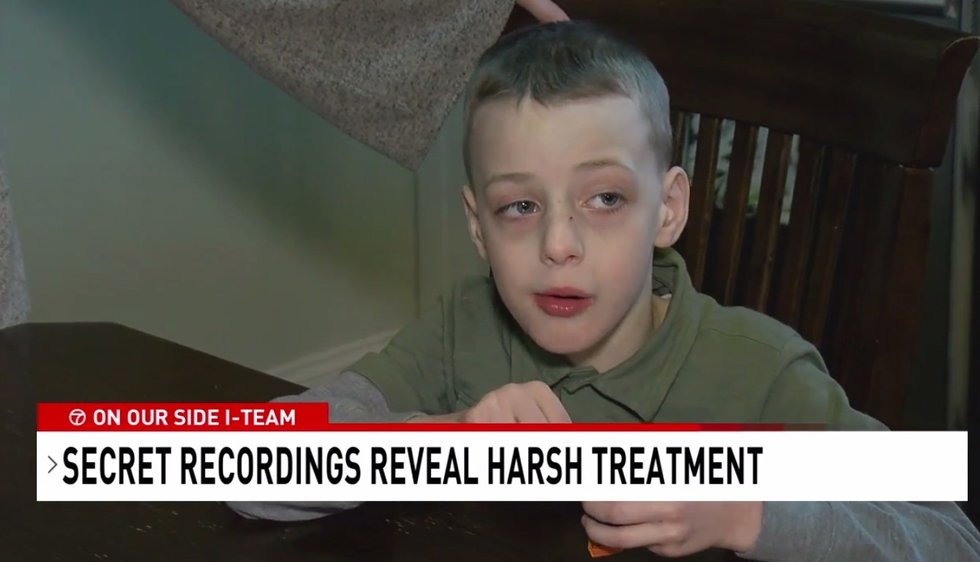 Image source: WJLA-TV video screenshot
Instructor #2 added, "It looks like you get nothing, Owen. Ha ha. Sorry, buddy."
What did the county prosecutor have to say?
The Berkeley County Prosecutor's Office found no criminal wrongdoing, WJLA reported, but County Prosecutor Catie Wilkes Delligatti told both mothers in a letter, "I am not in any way condoning the verbal treatment of your children by the individuals in the classroom."
Under West Virginia law, verbal abuse of children is not a criminal act, the Journal reported, citing a release from the prosecutor's office.
What happened to the instructors?

Berkeley County Schools released a statement about the recording, the paper added: "Berkeley County Schools will not tolerate any action or inaction that impacts the health, welfare, and safety of our students. The employees involved in the Berkeley Heights incident were placed on administrative leave since the allegations surfaced and the teacher has since resigned."
WJLA said the administrative leave was paid and that only one of the three instructors got back to the station and had no comment.
The
Civil Rights Office of the U.S. Department of Education just opened its own investigation, the station added.
What's happening with the two children highlighted in the story?

Both students are now in different schools, the station said, adding that Owen transferred to a new school district. The parents of both students told WJLA their children are very happy in their new classrooms.
As you might guess, Pack still has questions for the instructors.
"I don't understand why you treated her the way you treated her," she told the station. "She does not deserve that. No kid does."
(H/T:
EAGNews)