Since 2015 a sign that read "Jesus Welcomes You to Hawkins" sat on Highway 80 about 100 miles east of Dallas, the Longview News-Journal reported.
Members of the Jesus Christ Open Altar Church who put it there stood watch at times to protect it, KLTV-TV reported.
But still crews from the city of Hawkins — with a population just over 1,000 — took down the sign before sunrise Friday, the paper said, in an apparent culmination of legal disputes between the city and the church as to which entity owns the land upon which the sign sat.
Safety issues

A municipal street will be constructed at the site, Hawkins City Secretary Dona Jordan told the News-Journal.
Hawkins Mayor Tom Parkers told the station the sign was removed for safety reasons: "There is no, absolutely none, religious thing going on here at all, as far as the City of Hawkins is concerned. All we're concerned with is constructing a safe entrance onto Highway 80 from Blackburn Street."
The church isn't happy
The church's leaders are planning to file a federal lawsuit over the sign removal, KLTV said.
"The city employees destroyed our church property, pulled up our crosses, and destroyed everything," church trustee Mark McDonald told the paper.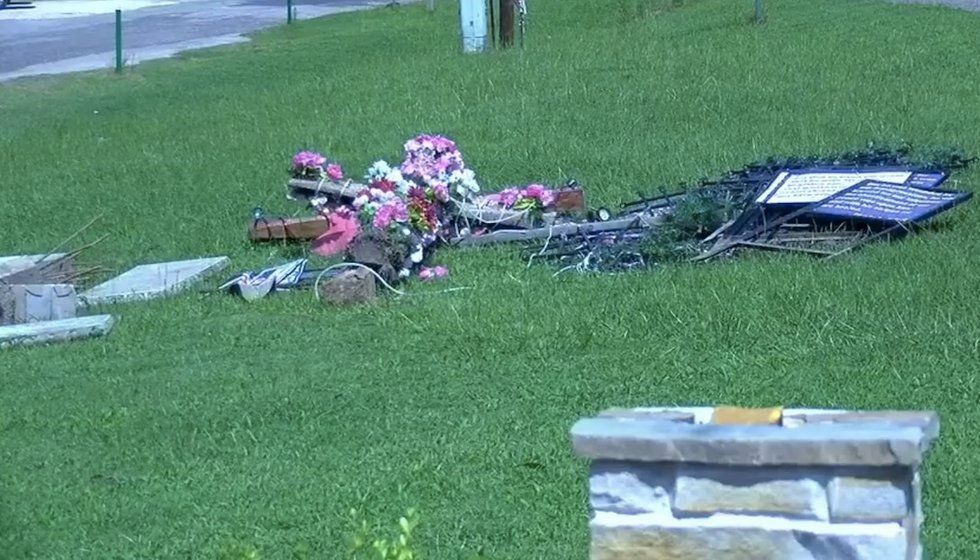 Image source: KLTV-TV video screenshot
He added that "we're treating it like a hate crime of religious discrimination that was conspired by the city. We have enough documents to prove that. The city was warned [Thursday] by our attorneys not to touch it and not to bother it. There's been closed meetings, closed records [and] a lot of things wrong."
But Police Chief Manny Gillow told the station that while the removed sign was a "Jesus sign … it would have been any sign" and that religion had nothing to do with the decision to take it down.