A Tennessee pastor who visited a migrant detention facility over the weekend revealed Monday that living conditions at the facility he toured do not compare to the inhumane conditions described by Democratic lawmakers like Rep. Alexandria Ocasio-Cortez (D-N.Y.), who has described the detention centers as "concentration camps."
Pastor Kevin Wallace of Chattanooga was among a group of pastors invited to visit migrant facilities on Sunday by an adviser to President Donald Trump. Wallace told WRCB-TV what he witnessed.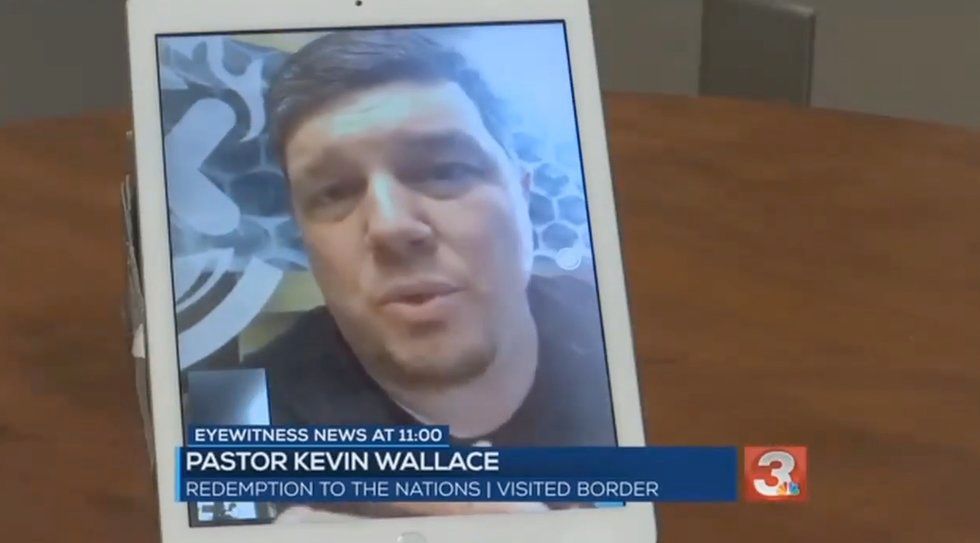 Image source: WRCB-TV screenshot
"The kids in the place were obtaining incredible care. I never saw one soggy diaper, I never saw one hungry child, there are no cages," Wallace said. "It's not at all what I had imagined based on the reports that I heard.
"As I walked through I thought — there are people living in America, children living in America — who are living conditions are much worst," he explained.
Regarding accusations that immigration authorities are neglecting and even abusing migrants, Wallace said he witnessed no migrant uncared for.
"I saw people in that detention center who demonstrated a true care and concern for those children," he recalled. "There was not one child that looked malnourished, that looked unfed, that looked unkempt."
And while the facility was not in the best condition, Wallace told WRCB conditions were much better than what is being reported in the mainstream media.
"I would eat off the floor. And there was food in the place to eat. I did not see one uncared for child, or one child who looked lost or without oversight — it was just not that," he said.

Chattanooga pastor visits immigrant detention center amid border crisis

www.youtube.com

Wallace's comments came on the same day that Ocasio-Cortez toured the migrant detainment centers on the Texas border with a group of Democratic lawmakers.
Ocasio-Cortez claimed she witnessed inhumane living conditions, including CBP agents instructing migrants to obtain drinking water from toilets. She did not, however, provide evidence to back her claims.