A veteran-owned clothing company is selling a Betsy Ross flag T-shirt in protest of Nike pulling a similar-themed sneaker line after former NFL quarterback Colin Kaepernick complained the iconic Ross flag is a symbol of slavery.
Nine Line Apparel, based in Georgia, also called for a Nike boycott, WJCL-TV reported. Check out an Instagram clip about the T-shirt here.
"Nike seeks profit through controversy, but with absolutely no regard for the consequences," Tyler Merritt, the outfit's CEO and a retired Army captain, told the station. "In its corporatist wake, it leaves behind anti-American sentiment and division, harming our country. But since Nike has no interest in displaying the Betsy Ross flag, a classic symbol of freedom and unity, then we proudly will. How far Nike has fallen. It was once an iconic American company. Now it can't even stomach associating itself with one of the greatest moments in our country's history, when individuals of diverse backgrounds put differences aside to fight tyranny and secure liberty, even as it continues to outsource jobs to China. The American people should support the red, white, and blue and boycott Nike and join our #NoToNike campaign. Nike says 'just do it.' We say just stand — stand for your beliefs and for your country."
Nine Line Apparel added a Facebook post saying, "Apparently symbols of patriotism are now racist. It's clear Kaepernick knows nothing about the country he lives in."
In 2016, Kaepernick launched the trend of athletes kneeling during the nation anthem at sporting events in protest of police brutality and oppression of people of color. He didn't get back on a team after that season, but he rose to fame for his stance — and then became the face of Nike's 30th anniversary campaign.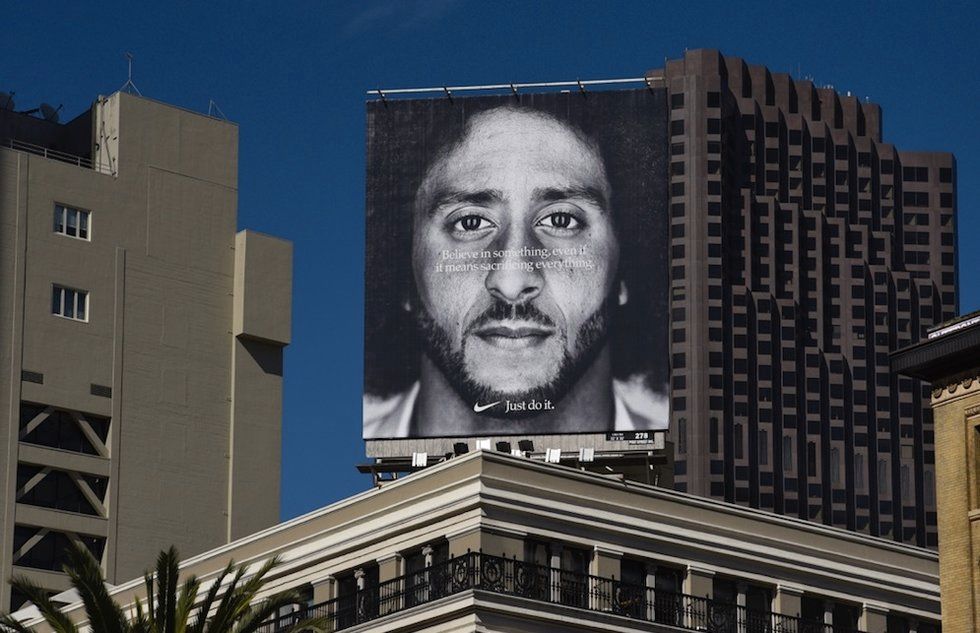 Photo by Robert Alexander/Getty Images
What else did the clothing company have to say?
"Nine Line Apparel, along with relentlessly patriotic Americans everywhere, cannot believe the total ignorance and lack of understanding displayed by both Colin Kaepernick and Nike in relation to our country's Betsy Ross flag, it's symbolism, and meaning," the company says on its Betsy Ross T-shirt page. "This early design of the flag of the United States depicts the original 13 colonies and represents the unity of these original American colonies in their fight against the British for our nation's freedom during the Revolutionary War. It in no way, shape, or form alludes to slavery yet is a direct representation of freedom fought and earned by early Americans."
The description adds that "we are only able to enjoy our liberties, rights, and lives as Americans today, because of what this flag has always symbolized and stood for" and that Nike and Kaepernick "are a disgrace to all freedom-loving Americans, choosing ignorance over patriotism."
"For these reasons and so many more, we proudly stand for freedom and the Betsy Ross flag to say without recall or hesitation, just DON'T do it," the description concludes.
The Betsy Ross T-shirt — which includes an image of the flag along with the word "Victory" — is on sale through Saturday.