Co-host of "The View" Whoopi Goldberg apparently came down with a serious case of whataboutism when she took aim at evangelicals for not doing enough condemning of sex trafficking and pedophilia amid the Jeffrey Epstein scandal, NewsBusters said.
'Why isn't the evangelical community coming forward?'
Goldberg actually said on Wednesday's program that evangelicals' apparent silence on the issue was 'worrying her':
You know who I'm waiting to hear from? All those folks that are out there that talk about they want to take care of young people and make sure young people are good … why isn't the evangelical community coming forward? Where is everybody? That was worrying me because I thought, 'Well, one of the ways that you show that you care about people is … you come out, and you condemn this kind of stuff … and all the folks that I'm used to hearing talk about, you know, 'This one is bad, or this is bad or this' haven't said much, and I was just wondering … where are they?
Co-host Meghan McCain stepped in and stated the obvious: "I don't think evangelicals are OK with pedophilia."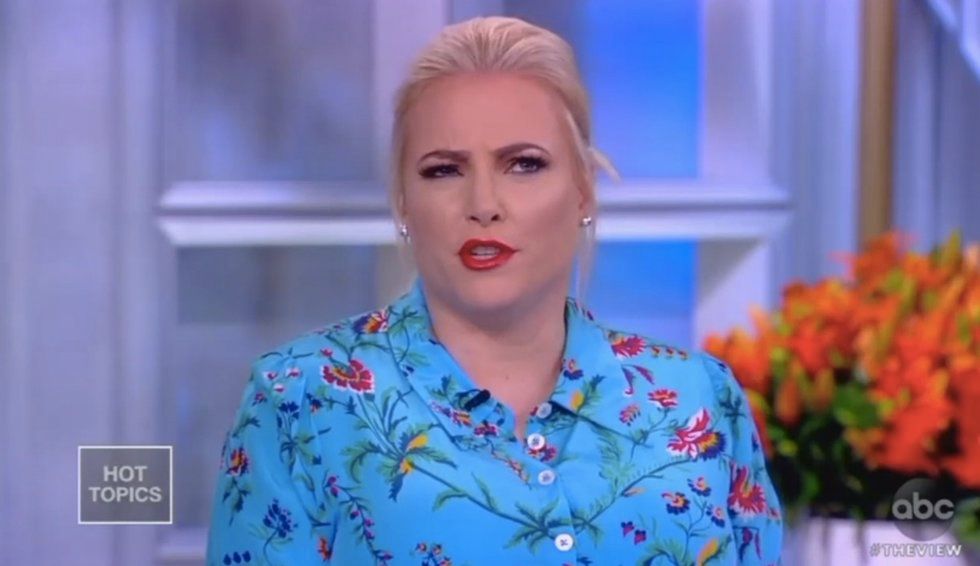 Image source: MRCTV video screenshot
That's when Goldberg ally and equally far-left co-host Joy Behar jumped in: "Have they said anything? I haven't heard from Jerry Fallwell Jr."
McCain kept her counter-attack going, noting the "huge" population of American evangelicals and chastising Goldberg and Behar for their apparent efforts to "blame evangelicals" amid the Epstein scandal.
"No, no, no," Goldberg retorted. "I want to be very clear. I'm not blaming anybody."
But McCain saw through Goldberg's misdirection and interrupted her, implying she is blaming evangelicals in a flimsy way — "for not speaking out enough?"
Without saying the word, Goldberg seemed to shoot back with the abortion issue and evangelicals' concern about it:
I feel like we have heard from the community and the voices of the community quite a bit about a lot of different things: How I want to deal with my body, how you want to see your kid, whether children should be where, and I have been waiting for them to say, 'And by the way, this isn't okay with us, either.'
"About the kids at the border, too, I haven't heard anything from them," Behar added.
Invoking 'Democrats' — and Goldberg's wrath
McCain brought up the fact that Epstein was a "giant donor to a lot of Democrats" — the political party to which Goldberg and Behar side with. It's also worth noting an investigative journalist just claimed former President Bill Clinton isn't telling the truth when he said he "knows nothing about the terrible crimes" Epstein is charged with.
McCain's rejoinder got Goldberg even more upset.
"This is my opinion!" she said. "I'm just saying I would like to see some of the people that have been talking about all the ills in our country, I want to see them come out and say, 'Yeah! This is one of them!' Because it sounds like there's no response! … This is how I feel!"
McCain managed to get her leftist co-hosts to name Pat Robertson and Franklin Graham as the evangelicals along with Falwell they'd like to say something about the Epstein scandal.