As the 50th anniversary of the first moon landing approaches Saturday — July 20, 1969 — the New York Times and the Washington Post took the opportunity on Twitter to blast NASA's space program that accomplished the world-changing feat as "mostly white and male" and guilty of "gender bias."
"The Apollo program was designed by men, for men," the Times' tweeted Wednesday. "If we do not acknowledge the gender bias of the early space program, it becomes difficult to move past it."
"The culture that put men on the moon was intense, fun, family-unfriendly, and mostly white and male," the Post's Tuesday tweet read.
What the articles say?

The Times' tweet linked to an article that pointed out the influence of 1950s and 1960s America on the space program — decades during which equality for women in the culture and in the workplace was far from the norm. The article noted that NASA's technological forays when women were allowed in the space program didn't pass muster as they were constructed with men in mind.
"If we want to land the first woman on the moon, let's make sure she has tools designed with her in mind," the Times' piece concluded. "Eliminating the legacy of gender bias is just one small step."
The Post's article linked in the paper's tweet ran in mid-June and also noted the dearth of women involved in the space program, except as secretaries for the most part. But Frances "Poppy" Northcutt — a return-to-Earth specialist who became the first woman in a technical position in Houston — was one of the few exceptions.
"I was used to being the only woman in the room," she told the Post.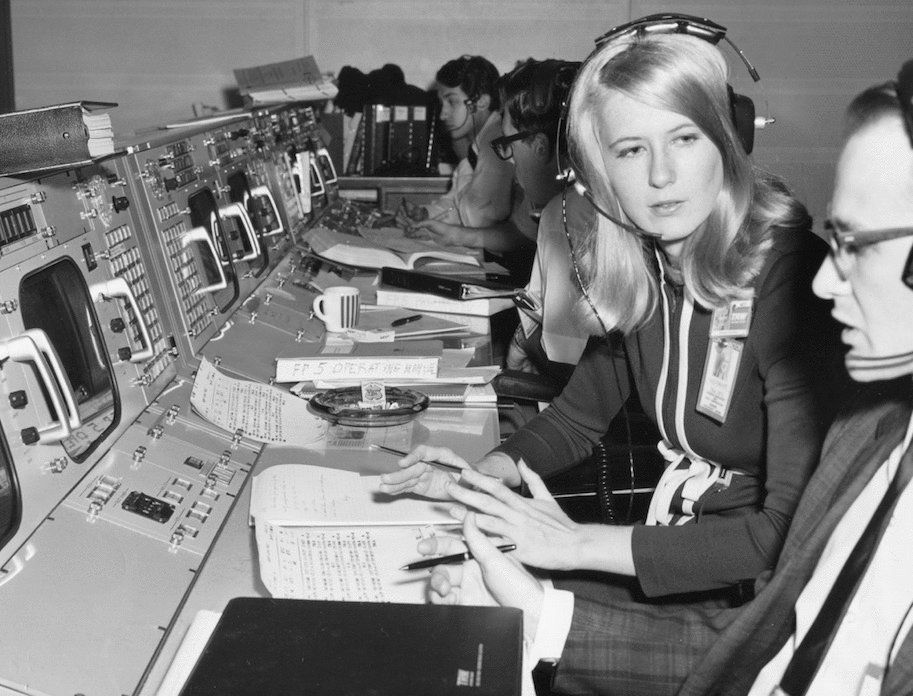 American computer and engineer Frances 'Poppy' Northcutt speaks with a colleague in Houston, Texas, 1969.Photo by TRW/PhotoQuest/Getty Images
"There were a couple of guys who were pretty 'handsy.' Nobody did a thing about it," fellow female engineer Parrish Nelson Hirasaki noted to the paper, although adding that "nobody was going to mess with Poppy. They'd ask her to make them coffee, and she would say, 'My ovaries do not uniquely qualify me to make coffee.'"
Northcutt eventually became a lawyer and president of the Texas chapter of the National Organization for Women, the Post added.
How did folks react to the tweets from the Times and the Post?

While some resonated with the sentiments behind the papers' Twitter posts, others weren't so enthralled.
Some reactions to the Times' tweet:
"Don't get me started on D-Day."
"If you're a woman, there's a 99.9999999% chance you will never go to the moon. If you're a man, there is a 99.9999997% chance you will never go to the moon. PATRIARCHY!!!"
"All the news that woke enough to print."
"The nonstop virtual signaling is pathetic. Give it a rest!"
"The American news media: Making sure America never makes the mistake of being proud of its accomplishments. Thank you, haters!"
"Good God. I hate the woke left. Can't we celebrate any achievement without it being tainted by this lunacy?"
And some reactions to the Post's tweet:
"Democracy dies with horrible woke takes on life."
"Seems like it's trendy to judge everyone by skin color and gender now. Gross."
"The WaPo is becoming more America-hating by the day. It's getting super-tiresome."
"You have a great knack for ruining everything."
"I keep telling my friends that moon landings are racist and sexist. Now I have source data."
Oh, and there was another World War II reference: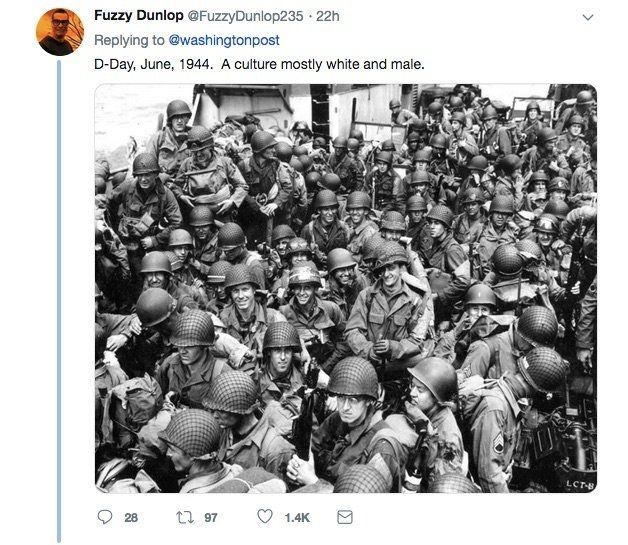 Image source: Twitter