Pastor E. W. Lucas of Friendship Baptist Church in Appomattox, Virginia, has been changing out the church's roadside sign — typically to reflect his upcoming sermons — since 1979, WSET-TV reported.
And this time he told the station he had it mind to "make some remarks regarding the situation in Washington."
Then he said the phrase "just came to me. I just said, 'America? I love it. If you don't love it, leave it," WSET said.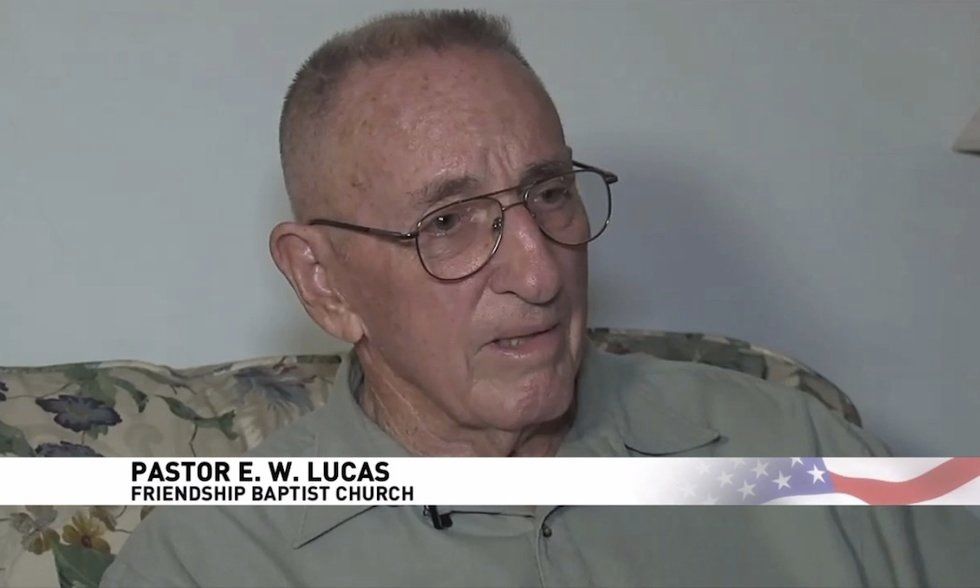 Image source: WSET-TV video screenshot
Now the church sign reads, "America: Love it or Leave It" — and just like that it's getting attention well beyond Appomattox, as even the Associated Press has taken note of the sign.
The situation in the nation's capital is presumably related to accusations of racism against President Donald Trump after he challenged progressive Democratic congresswomen who criticize America to "go back" to the countries "from which they came."
Trump's comments were apparently directed at Rep. Ilhan Omar (D-Minn.), who was born in Mogadishu, Somalia, as well as Reps. Alexandria Ocasio-Cortez (D-N.Y.), Rashida Tlaib (D-Mich.), and Ayanna Pressley (D-Mass.), who were born in America.
What's been the reaction to the church sign?

WSET said hundreds of people have expressed their support and opposition to the sign, but Lucas is accentuating the positive.
"Since we've had favorable comments on it, I thought I'd just leave it a while," he told the station.
Lucas also seemed to echo Trump's sentiments.
"People that feel hard about our president … and want to down the president and down the country and everything, they ought to go over there and live in some of these other countries for a little while," he added to the station.
And don't hold your breath waiting for him to get concerned about offending somebody.
"Preachers by and large today are afraid they're gonna hurt somebody's feelings, and when I get in the pulpit, I'm afraid I won't hurt somebody's feelings," Lucas told WSET.

America: Love or Leave it sign at Virginia church draws attention

youtu.be