A pair of viral videos show people on New York City streets getting bolder about their opposition to NYPD officers.
One clip shows an officer getting hit in the head with a bucket while attempting to make an arrest with a partner, and both officers are doused with water as a crowd roars around them.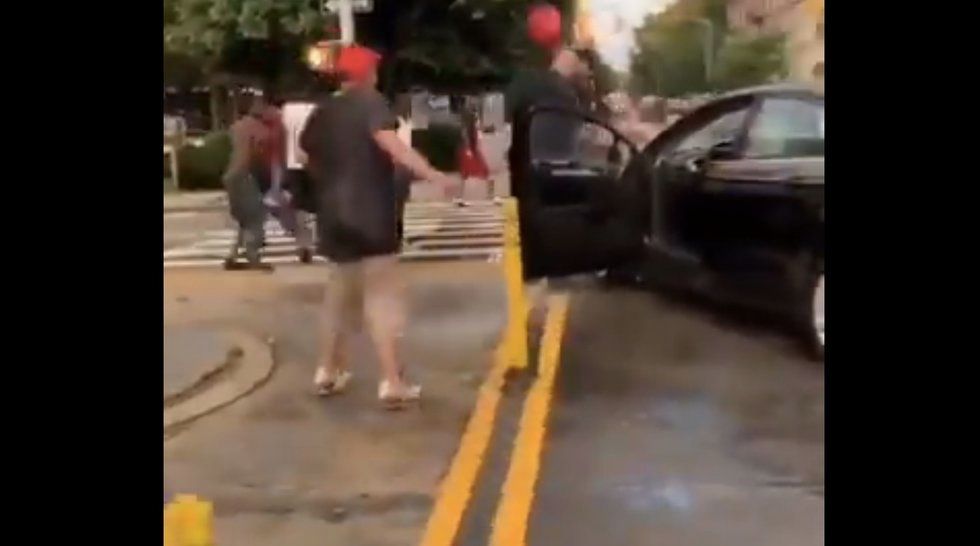 Image source: Twitter video screenshot
Here's the clip:
A second video shows a pair officers repeatedly getting water thrown and dumped on them — and the drenched cops simply walk away without reacting.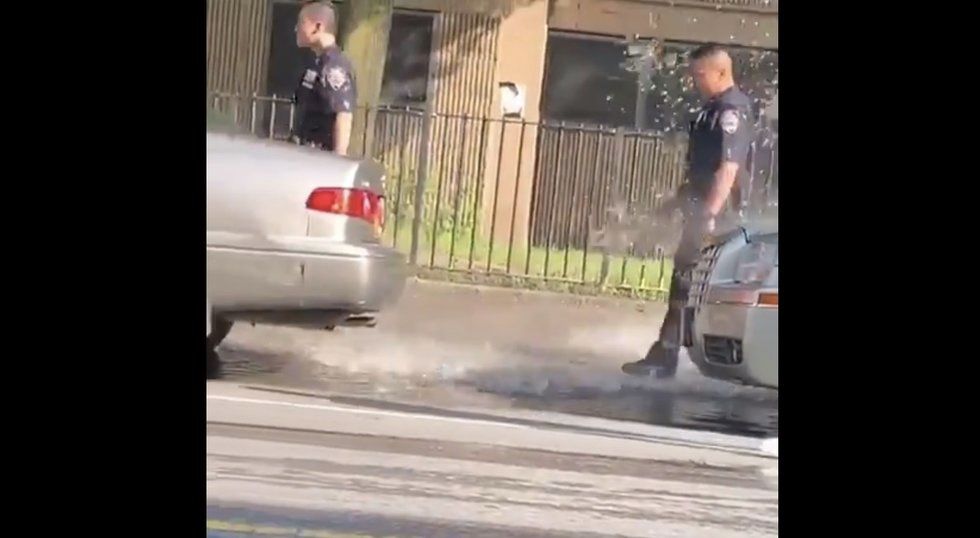 Image source: Twitter video screenshot
Here's the clip: (Content warning: Language):
What did the chief of police have to say?
"The videos of cops being doused with water and having objects hurled at them as they made an arrest in #Harlem is [sic] reprehensible," NYPD Chief Terrance Monahan tweeted. "NYC's cops & communities have made remarkable progress — together — but EVERY New Yorker MUST show respect for our cops. They deserve nothing less."
Later he added, "To NY's Finest: the work you do every day is remarkable. We trust you to do what is a very difficult job. Use your discretion — make arrests when necessary — and know that you have our support and full confidence. Thank you for what you do day in and day out. Please stay safe."
What did the mayor have to say?
New York City Mayor Bill de Blasio tweeted about one of the videos, calling what happened to officers "completely unacceptable."
"A video from the 28 Precinct shows people interfering in an arrest by throwing water and objects at officers," the Democrat and presidential hopeful added. "The NYPD kept New Yorkers safe through the heat wave and last night's outages. We won't tolerate this kind of disrespect. NYPD is investigating."
What did the Police Benevolent Association have to say?
Patrick Lynch, president of the Police Benevolent Association of the City of New York,
stated that "our anti-cop lawmakers have gotten their wish: the NYPD is now frozen."
Lynch added: "It's not the fault of these police officers. It's the end result of the torrent of bad policies and anti-police rhetoric that has been streaming out of City Hall and Albany for years now. We are approaching the point of no return. Disorder controls the streets, and our elected leaders refuse to allow us to take them back. As police officers, we need to draw a line. In situations like this, we need to take action to protect ourselves and the public. The politicians may not care about the dangerous levels of chaos in our neighborhoods, but police officers and decent New Yorkers should not be forced to suffer."
'Walking away with their tail between their legs'
Joseph Imperatrice, an NYPD sergeant and founder of Blue Lives Matter NYC, told Fox News that the incidents made him "sick to my stomach" and that "this is how cops get killed."
Noting the clip where the officers walked from those dumping water on them without reacting, Imperatrice said the cops were "bullied" and resorted to "walking away with their tail between their legs."
Police have "gotta take back the street," he added.
Steve Kardian, a former Westchester County (New York) police sergeant, added to Fox News that De Blasio is a "progressive mayor" who "tied the hands" of police by ending controversial practices such as stop and frisk and ended up creating a "less-than-reactive police department" when New York City needs a "proactive" police force.
Darrin Porter, a former NYPD officer, echoed Kardian's sentiments, telling Fox News that the city's administration carries the "blame" for incidents like this by "not backing the cops."