A reputed Crips gang member — who's on probation and has been busted over 20 times, the New York Post reported — was arrested in connection with weekend incidents caught on video showing New York City police officers doused with water while on duty.
In one of the incidents, which took place in Harlem, an arresting officer was hit in the head with a bucket amid a water dousing.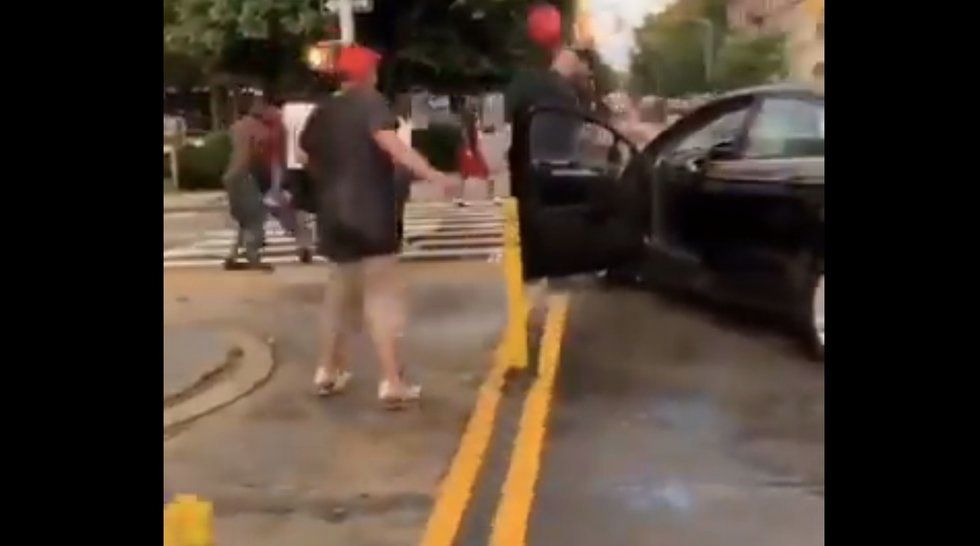 Image source: Twitter video screenshot
The other incident — which took place in Brooklyn, the paper said — shows water repeatedly dumped on a pair of officers as they walked away without reacting.
Who's the alleged gang member?

Courtney "Killer Court" Thompson, 28, of the Crips "Fresh Gangstas" surrendered Wednesday morning for his alleged involvement in the Brooklyn incident, the Post said, citing sources.
Thompson allegedly was seen in the video dumping a blue bucket of water on the back of one of the officers, the paper said.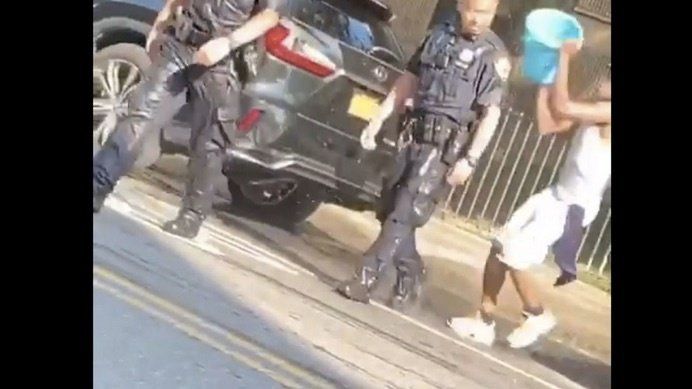 Image source: Twitter video screenshot
Police charged Thompson with obstruction of governmental administration, criminal nuisance, criminal tampering, disorderly conduct, and harassment, the paper reported.
The New York Daily News said the criminal tampering charge stemmed from damaging a $250 police body camera with the water.
Here's the clip. (Content warning: Language):
Thompson has over 20 prior arrests on his record including busts for assault, sources told the Post, adding that most of the related records are sealed. Thompson has been on probation since last year in connection with a 2015 robbery arrest, the paper added, citing sources.
The Daily News noted that Thompson actually "comes from a law enforcement family — his mother is a city Correction Department captain and his aunt is a federal corrections officer in Washington, D.C., his lawyer said at his arraignment. He was released on $3,500 bail."
What did Thompson's lawyer have to say?
Thompson's attorney, Doug Rankin, told the Daily News that political attention to the videos has blown things out of proportion.
"When Vice President Pence tweets about it, I think that changes the dynamic about it," Rankin told the paper. "Unfortunately, [New York City Mayor Bill] de Blasio and [former New York City Mayor Rudy] Giuliani went at it, so I think, like I said, much to do about nothing, unfortunately. And when it's all said and done, I think they're going to realize it wasn't even my client."
Rankin added to the Daily News that the Brooklyn incident was benign compared to the one that took place in Harlem, during which an officer, in the middle of making an arrest, was hit in the head with a bucket.
"These officers (in Brooklyn) were not doing anything but patrolling. Video is going to come out of them playing in the water before all of this happened. They walked away, they were smiling," Rankin added to the paper. "They didn't make a 61 (complaint report); they didn't even make a complaint to their commanding officers. It wasn't until it surfaced on the internet that the brass got embarrassed."
Other arrests
Police told the Daily News that a Texas woman was walking through a Harlem neighborhood when she was doused with water, which damaged her cellphone.
Isaiah Scott, 23, and Chad Bowden, 28, were arrested Wednesday for splashing water on the passersby, the Daily News said.
Scott was charged with criminal mischief, the Post said, citing sources, adding that Bowden was charged with criminal mischief, two counts of harassment, and disorderly conduct.
That incident occurred a block away from the water dumping on officers, which included one of them getting hit in the head with a red bucket, the Daily News said.
Here's the clip:
More from the Daily News:
When two police officers responded to a call about splashing on St. Nicholas Ave. at W. 115th St. about 8:50 p.m. Saturday, the pair arrested Ibrahima Niang, 22, and Abdoulaye Diallo, 17, for criminal mischief — and were quickly soaked by other young men wielding water buckets in the 90-plus degree heat.

"F*** you, you're lucky you have that shield," Niang told the officers, according to court papers. "What the f*** leave us alone," Diallo added, the criminal complaint says.

A cellphone video of the chaos showed one officer was struck in the head with a bucket thrown by someone in the crowd.

Police released a photo of the alleged bucket-thrower Wednesday night. He remains at large.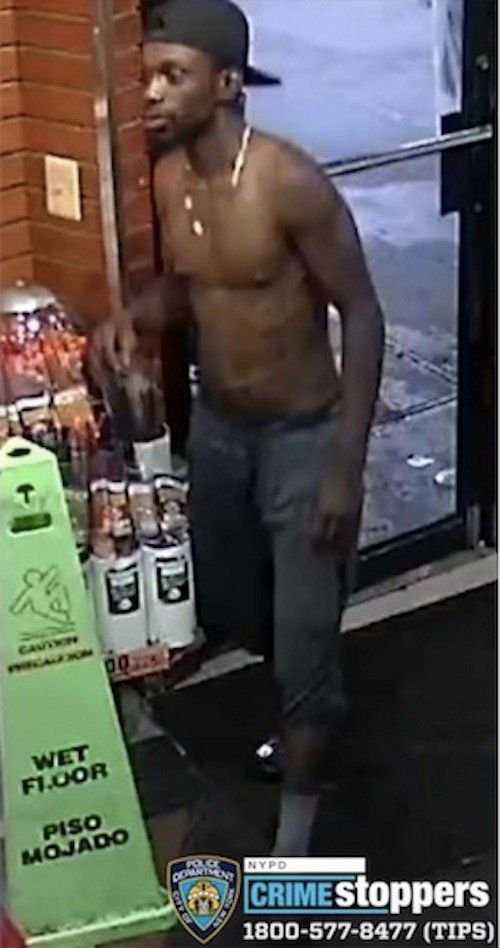 Image source: New York City Police Department
Yet another water attack on cops
The Daily News noted a new video emerged showing cops getting soaked with water. The clip — posted Wednesday on the Twitter page of the Sergeants Benevolent Association of the NYPD — shows people tossing water on a pair of female officers.
"NYPD Cops are in DANGER! Another video of water buckets being tossed," the tweet reads while suggesting that NYPD Commissioner James O'Neill and NYPD Chief Terence Monahan should resign. "O'Neill needs to go before we get another cop killed!"
The location of the most recent clip wasn't clear, the Daily News said.
(H/T: Blue Lives Matter)