https://www.foxnews.com/world/state-department-confirms-death-of-american-in-ukraine
NEWYou can now listen to Fox News articles!
Secretary of State Antony Blinken confirmed that an American citizen was killed in Ukraine on Thursday.
"We offer our sincerest to the family on their loss," a State Department spokesperson said. "Out of respect to the family during this difficult time, we have no further comment."
RUSSIA INVADES UKRAINE: LIVE UPDATES
Local police said that James Whitney Hill, 68, was killed during heavy Russian artillery shelling against civilians in the city of Chernihiv, according to The New York Times. His identity was confirmed by Anton Gerashenko, an adviser to the Ukrainian Interior Ministry.
Hill was from Driggs, Idaho had been seeking medical care in Ukraine for his partner Ira, a Ukrainian citizen, according to a local outlet in Idaho.
"My brother Jimmy Hill was killed yesterday in Chernihiv, Ukraine," Hill's sister Cheryl Hill Gordon wrote Thursday on Facebook. "He was waiting in a bread line with several other people when they were gunned down by Russian military [snipers]. His body was found in the street by the local police."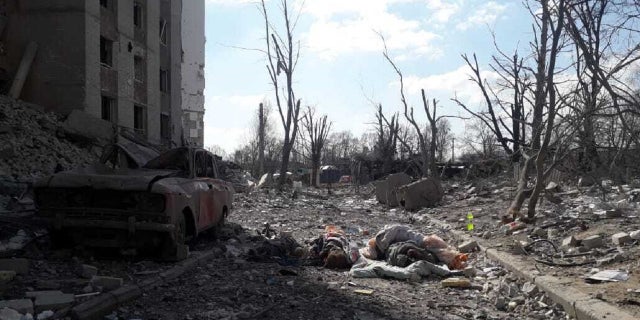 In the days before his death, Hill's Facebook page was marked by harrowing posts detailing his situation and his inability to get out of the city, which is along Russia's invasion route from Belarus to Kyiv.
"Not allowed to take photos. Spies throughout city. Bombing has intensified no way out," read Hill's last post, which he wrote Tuesday.
"We could try a break out tomorrow but Ira's mom doesn't want to," he wrote on Monday. "Each day people are killed trying to escape. But bombs falling here at night. Risk either way…I only have wifi a few hours a day. We have enough food for a few days."
CLICK HERE TO GET THE FOX NEWS APP
In a post last week, Hill described "intense bombing" in the city near the hospital.
"The war is not going as they predicted. Over confidence leads to lack of planning. Putin is paying a price for his arrogance," he wrote.