https://www.theblaze.com/news/preschool-teacher-resigns-lgbtq-flashcards
On the heels of a report that a North Carolina preschool teacher used LGBTQ-themed flashcards to instruct students — one card apparently shows a pregnant man — the teacher has resigned, WTVD-TV reported.
What are the details?
The flashcards — apparently used to teach colors to students — reportedly were found in a preschool classroom at Ballentine Elementary School in Fuquay-Varina, the station said.
Wake County School District said in a statement that it's "concerned to learn of the inappropriate instructional resource found in a preschool classroom," WTVD said, adding that the statement also said the flashcards weren't tied to the district's curriculum and were removed.
The station added that the name of the teacher who resigned isn't known, but the classroom serves students with special needs.
Republican State Rep. Erin Paré told WTVD a constituent witnessed the flashcards being used with kindergarteners and that a stack was found in a preschool classroom drawer.
"I am grateful that a concerned constituent reached out and that this issue is being addressed in a swift and professional manner by Ballentine Elementary School," Paré said in a release, according to the station. "Schools should only be using age-appropriate materials, and these flashcards clearly do not meet that standard for a pre-school classroom. I hope schools across Wake County and the State of North Carolina will follow the example of Ballentine and respond swiftly when a parent expresses concern and ensure that materials like this are not being used to teach young students."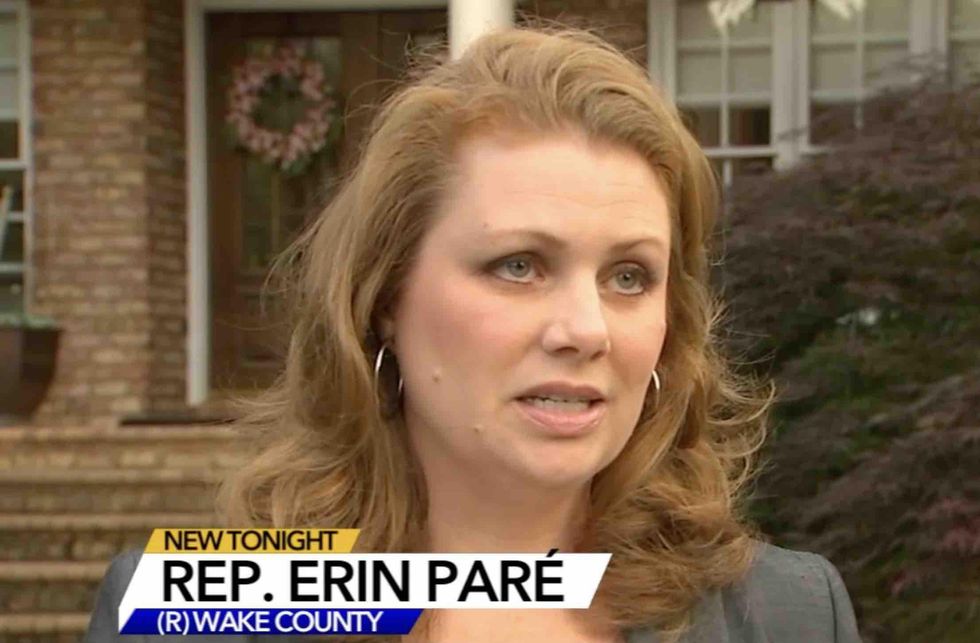 Image source: WTVD-TV video screenshot
Paré added to WTVD that "parents should have the ability to be engaged and collaborate with teachers. I'm not just a legislator; I'm the parent of two Wake County students in public school."
Parent pushes back
One parent who has a 3-year-old son in the class told the station Tuesday she's upset about losing the teacher.
"It's so important for all of our kids, but especially these kids, to know that it's OK to look different, to act different, and for these students — whatever their family dynamic is, whatever they look like — [that] they're represented in the classroom," Jackie Milazzo noted to WTVD.
Milazzo added to the station that she got a message from the principal about inappropriate teaching material.
She also told WTVD she didn't think much of it and talked to the teacher, who said the images were used on a bulletin board along with different images of families in the student art center.
"Our kids are being used as a publicity stunt. We are not upset about what's in the classroom," Milazzo added to the station. "I know a lot of the community at Ballentine Elementary aren't upset about this being in the classroom."
She also told WTVD that "a picture of a same-sex couple does not make my child unsafe. I've been receiving messages that our teachers are groomers, [that] my child is being brainwashed … how am I supposed to feel safe sending my child to school like this? These actions are not supporting our schools, they're not supporting our teachers, they're not supporting our kids, my child has now lost his teacher."
Anything else?
Paré added to the station that "we have to think about the age-appropriateness of some education tools, and that's what we have to be talking about here. They can look at a picture of a mother hugging a male — [who] appears to be a male — with what appears to be a baby in their belly, and I think that's how a 4 year old would interpret that picture."
The state representative added to WTVD that such an image is "confusing" to students: "That's a sentiment shared not just by folks in southern Wake County but by parents across the state. This educational tool was age-inappropriate for these pre-schoolers, and that's just not me telling you that — that's the school district telling you that, that's the principal telling you, and that's a shared conclusion among all reasonable people in this."