https://www.theblaze.com/news/california-homeowner-fires-at-intruders
A homeowner in Sherman Oaks, California, was awakened around 1:30 a.m. Saturday when he heard a noise outside, KTTV-TV reported.
The homeowner — whom the station called "Remi" — at first thought raccoons were making the racket, as they'd been breaking into his garbage container as of late.
What happened next?
But when Remi checked what was happening on the balcony in the back of his place on Beverly Ridge Drive, he instead spotted two men — one of whom was armed with a gun, KTTV said.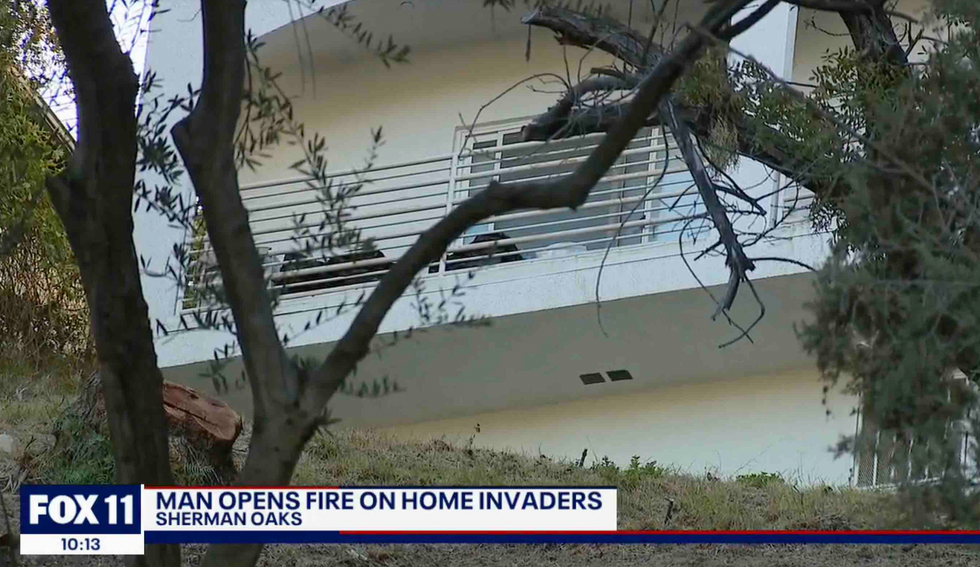 Image source: KTTV-TV video screenshot
"I see two guys, and one is pulling my sliding [glass] door open, so immediately I run toward my bedroom, grab my firearm, and I'm just putting rounds straight at the guy," Remi recalled to the station.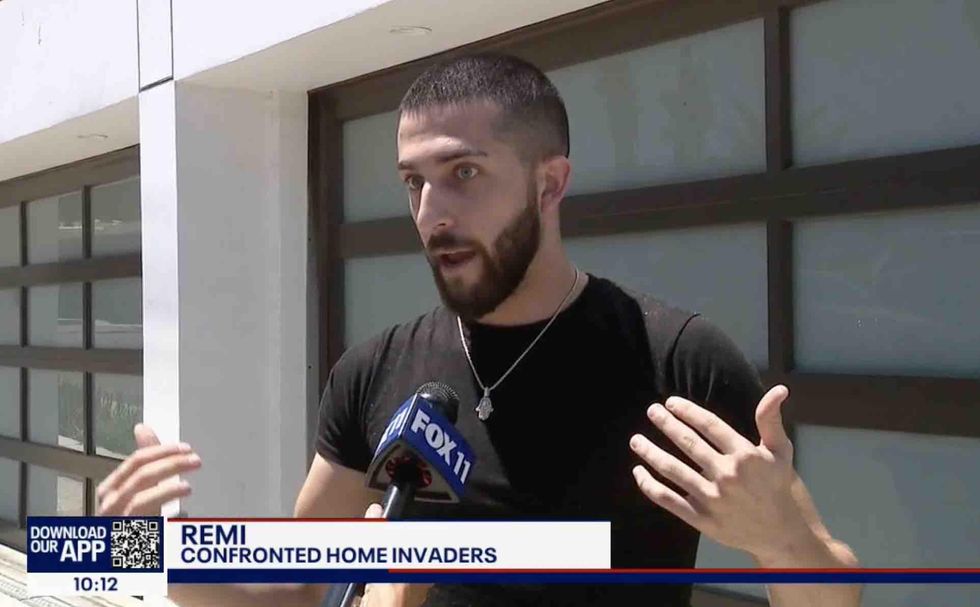 Image source: KTTV-TV video screenshot
The intruders ran away, but Remi ran after them in fear they'd find another way into his house, KTTV reported, adding that he stood face to face with a third intruder after coming back inside his home.
"So I open my bedroom [door], and there's a guy literally six feet in front of me," Remi noted to the station. "He's in my house already coming toward my bedroom, so as soon as he sees me with a gun he starts yelling — [and] I pull out my gun, and I start firing inside of my own house."
The third intruder ran off as well, but Remi wasn't taking any chances — and he ran back to his bedroom to get more bullets, KTTV reported.
"I'm thinking, 'OK, I'm gonna run out of bullets,' so I run back to my closet; I have four extra magazines with a first-aid kit, so I grab my magazines, [and] turn the lights off," he recalled to the station. "I'm in survival mode."
The aftermath
Remi told KTTV the intruders were wearing masks and hoodies but may have been Middle Eastern based on a non-English word they were yelling that he understood: "Run!"
Police arrived soon after Remi called 911 and cleared the home, the station reported.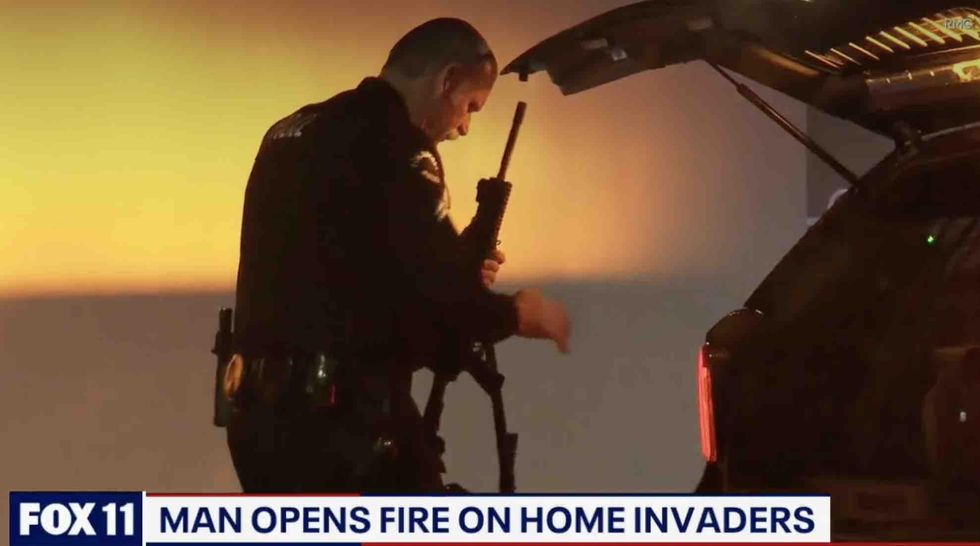 Image source: KTTV-TV video screenshot
Police also believe the intruders got to the back of the home by climbing up a hillside from a dirt road.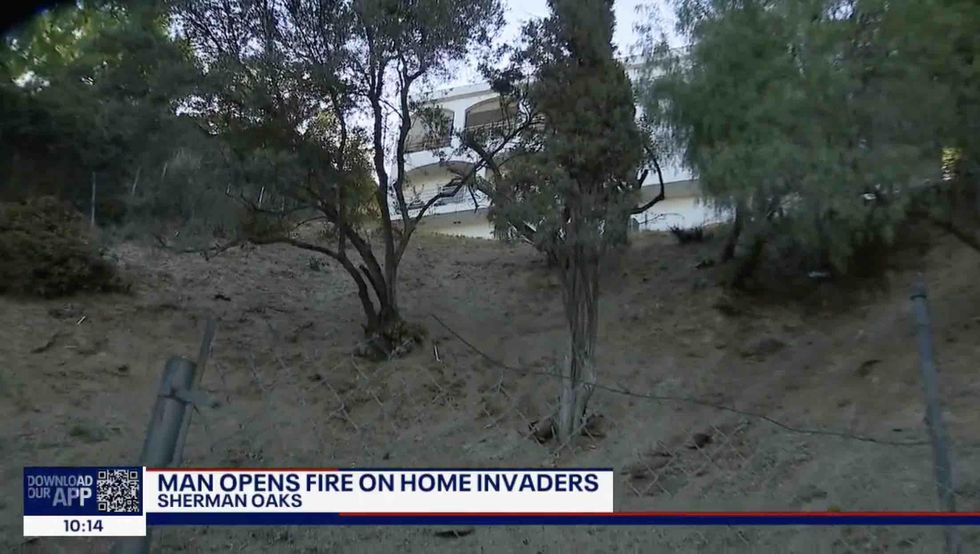 Image source: KTTV-TV video screenshot
Remi added to KTTV that he doesn't know whether his bullets actually hit any of the intruders, but he's thankful he had a gun and ammunition to protect himself.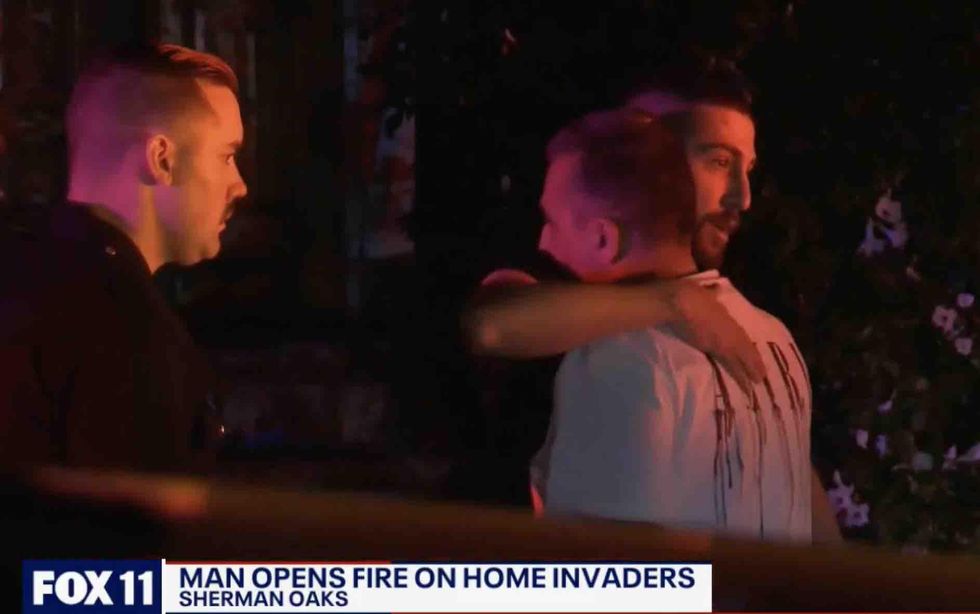 Image source: KTTV-TV video screenshot
"Instincts kicked in at that moment," he explained to the station. "I don't know if I could ever do it again. It was just very instinctual."