https://www.theblaze.com/news/former-college-star-and-current-coach-breaks-world-record-for-5-different-basketball-shots-in-1-day-thanks-in-part-to-his-mom
One former college basketball star and current basketball coach recently scored big in the Guinness Book of World Records, breaking the record for five different basketball shots — with a little help from mom.
Joshua Walker, 27, of Shreveport, Louisiana, shot lights out back in July, breaking the record for the longest shot, farthest behind-the-back shot, farthest hook shot, farthest bounce shot, and the farthest shot made backwards, GWR confirmed.
Take a look:
After he made the longest shot, 113 feet and 6 inches, Walker was at a loss for words.
"I literally don't know. I've never been more excited in my life," he said. "I don't even know how to react."
But despite all the enthusiasm for the shot, he still had four more trick shots to make. And he made them, one by one.
He made a behind-the-back shot from 48 feet, a hook shot from 80 feet, a bounce shot from 95 feet, and a backwards shot from 84 feet. In the process, he bested the records set by trick shot phenoms from the Harlem Globetrotters, including Corey "Thunder" Law and Rock "Wham" Middleton.
"My 8-year-old self would be ecstatic to see that I'm here doing this," Walker remarked at the time.
But nearly 20 years later, the former 8-year-old still relies on his mom to help him achieve his dreams. During his attempts to hit the backwards shot, which he described as "physically taxing," Walker looked to his mother, sitting in front of him in the stands, for a little guidance. His mother, whose name is not mentioned in the video, lined up the shot for him, he said.
She was also good for the occasional sweat towel too.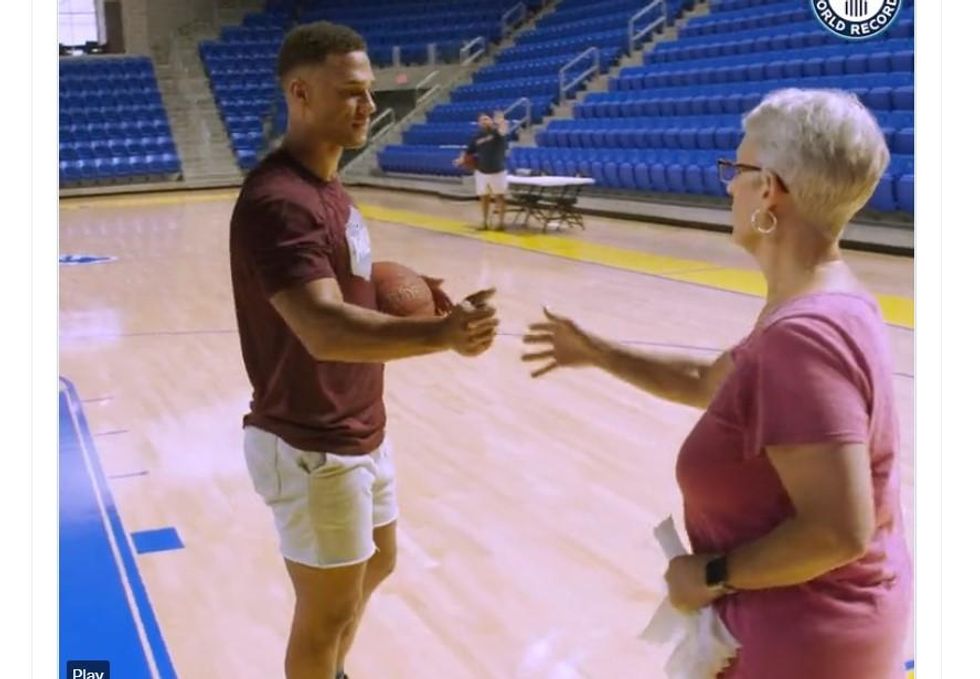 "I think my arm might fall off tomorrow," Walker said during his record-setting day.
Walker appears to have performed the shots at the home arena of the McNeese State University Cowboys, the team for which former Detroit Pistons legend Joe Dumars once played. However, Walker spent his own college days lighting up the scoreboard for the Pilots of LSU-Shreveport, just over three hours north of McNeese.
Though Walker refers to himself as a coach in the video, it is unclear which team or which level he coaches.