https://www.theblaze.com/news/trump-supporter-says-fbi-came-her-home-intimidate-her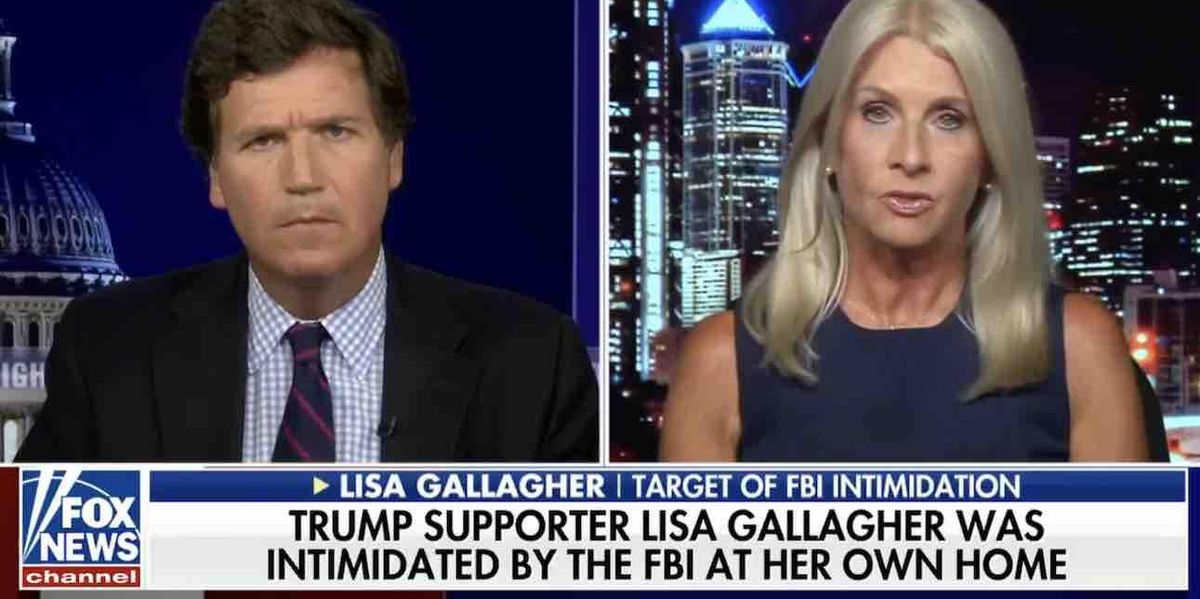 A mother and wife from a New Jersey suburb told Fox News' Tucker Carlson on Monday that FBI agents showed up at her door the morning after President Joe Biden's recent militaristic speech railing against "MAGA Republicans" and said they received an "anonymous tip" that she was at the Jan. 6 Capitol riot.
What are the details?
Indeed, Lisa Gallagher is a supporter of former President Donald Trump and has voiced support for him on Facebook — as well as with a Trump lawn flag — but that's as far as it went, Carlson said on his program prior to interviewing Gallagher.
"You have not committed a crime of any kind," Carlson noted to her during his interview, adding that "you weren't even at the Capitol on Jan. 6."
Gallagher confirmed Carlson's statements and then described what happened to her.
"I was terrified," she told Carlson. "And I'll be honest with you, when my daughter woke me up telling me there were three armed FBI officers at my door, I thought she was joking and immediately tried to throw clothes on. I called my husband, I was crying, my knees were shaking. And even though I knew I 'd done nothing wrong, after seeing Joe Biden's speech the night before, I thought, 'Oh my God, this is political.'"
Gallagher added to Carlson that in her "frightened" state, she thought, "They can take me out of here in handcuffs. … Am I not coming home?" She added, "So I went outside, and I said, 'Gentlemen, you are scaring me.' And they proceeded to tell me that they were given an anonymous tip that I was at the Capitol on January 6."
Carlson told Gallagher the FBI knew it couldn't be true since they have facial recognition software and lacked evidence.
Gallagher added that she nevertheless "invited them into my home so I could look at my phone and my calendar. And I have subsequently called the FBI office in Newark to just document or know for sure that it really was FBI agents at my home. And it was. And they said it was an anonymous tip, but they won't tell me anything else."
The FBI's Newark office on Tuesday afternoon didn't immediately respond to TheBlaze's request for comment regarding Gallagher's claims.
'A theme in every authoritarian regime'
Prior to his interview with Gallagher, Carlson said she and her husband showed the agents her daily calendars from January 2021 and "finally convinced the agents that she wasn't at the Capitol that day. Imagine armed FBI agents showing up at your house because you supported Trump on Facebook and demanding records of your whereabouts on a date nearly two years ago."
Carlson continued: "The point — and this is a theme in every authoritarian regime … was to use government agents to intimidate enemies of the regime on the basis of an anonymous tip." Carlson called the FBI's actions "Soviet — and there's no other word for it" and said the "same thing is happening to other supporters of the former president."