https://www.theblaze.com/news/texas-democrat-gonzalez-doctored-photo-mayra-flores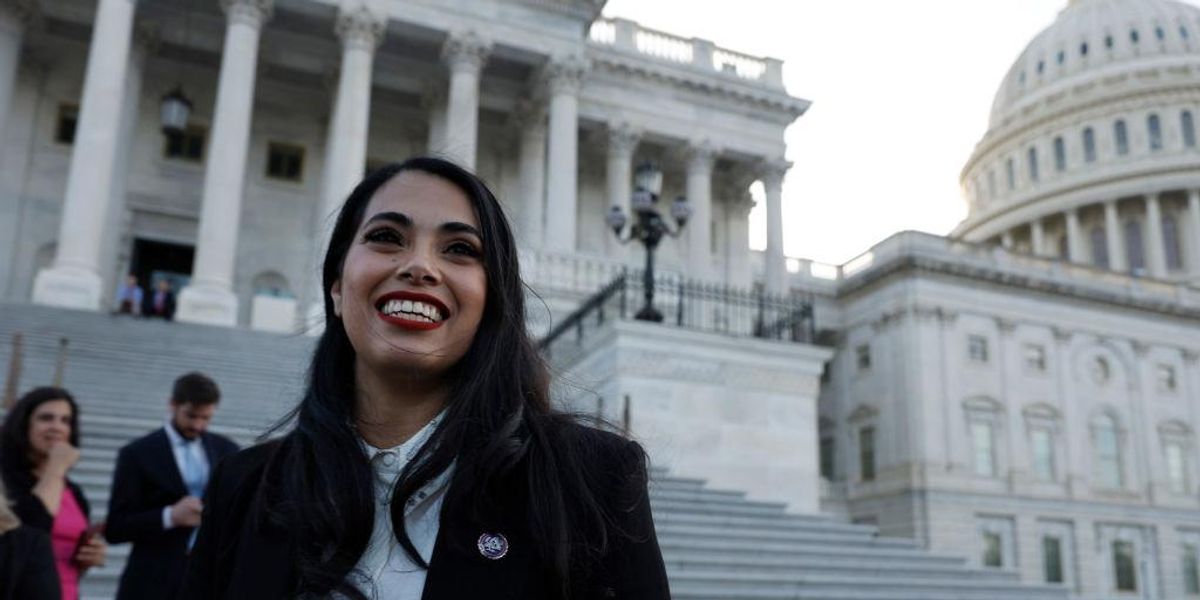 Democrat Rep. Vicente Gonzalez (D) has been trying ardently to paint his opponent, Rep. Mayra Flores, in a negative light in hopes of securing Texas' 34th Congressional District in the midterm election. In his most recent reelection ad campaign, Gonzalez went so far as to transmogrify an image of Flores, providing her with an uncanny and aggressive expression that might unsettle some voters.
The doctored image first appears at the ten-second mark in the attack ad, posted to Gonzalez's campaign account on October 10.
While the original image depicted Flores smiling, holding a firearm, and adhering to good trigger discipline, the doctored image has been warped such that she has made to appear grimacing, with eyebrows downcast and elongated.
At the time of the ad's release, Gonzalez offered no indication that the image had been edited.
After invoking the Uvalde school shooting, the ad juxtaposed the image with Flores' voting record on the so-called "Bipartisan Safer Communities Act" and then with a dynamic image of children in a classroom. Flores, who is reputedly "Pro-Life, Pro-Second Amendment, and Pro-Law Enforcement," did not support the bill, which enacts red-flag laws.
Although Gonzalez supports incentives for illegal aliens, including DACA and amnesty, and has opposed deporting criminal noncitizens, his ad castigated Flores for voting against keeping guns out of the hands of criminal elements from Mexico.
The ad concludes by calling Flores "disgraceful" and claiming that "she does not represent South Texas values."
Rachel Campos-Duffy of "Fox & Friends" suggested that "Democrats fear conservative Latinas so much" that they "do things like this."
Michael McAdams, communications director of the National Republican Congressional Committee, tweeted, "More sexist behavior from scumbag @RepGonzalez. Dem candidate in key House race uses doctored photo to make female opponent look aggressive in campaign ad."
Flores responded on Twitter, recalling how "Vincente Gonzalez hired a racist blogger to attack me for my heritage" and indicating that her opponent is now "doing the dirty work himself with this shameless and pathetic photoshopping."
The "racist blogger" to whom Flores was referring was Jerry McHale. The Texas Tribune reported that McHale was paid thousands of dollars by the Gonzalez campaign for "advertising services."
McHale called Flores, the first woman born in Mexico to be elected to the U.S. Congress, "Miss Frijoles" and "Miss Enchiladas." He also called her a "cotton pickin' liar."
With the Gonzalez campaign's financial backing, McHale wrote on May 13: "DOES FLORES WANT TRUMP TO COME & TAKE HER P**SY??"
In response to McHale's comments, Flores stated, "I am disgusted that Vincente Gonzalez has hired a creepy blogger to attack my Mexican heritage and sexually degrade me, but I won't let this distract me from my work. … I came to Congress to represent my community's values: God, Family and Country. Vincente Gonzalez is an example of everything that's wrong with Washington."
Extra to hiring McHale to go after Flores, Gonzalez also took to election denial. Last month, he claimed, "They stole that last election," in reference to the June special election in which Flores defeated Democrat Dan Sanchez for an open congressional seat. Democrat President Joe Biden claimed last month that anyone who "refuses to acknowledge an election … is a threat to democracy."
The Gonzalez campaign may have utilized visual disinformation to advance its interests, but it is not the first to do so in recent history.
Last year, CNN was accused of altering footage of Joe Rogan to make him "look sickly."
Rogan had uploaded a video to Instagram indicating he was using "monoclonal antibodies, ivermectin, Z-Pak, prednisone, everything" to combat COVID-19, which he had recently contracted. There was some question about whether the apparent drop in saturation and increase in yellow in CNN's version was the result of technical issues, while others indicated it was intentional and correlated with the network's desire to discredit Rogan. CNN remained resolute in denying having done so.