https://www.mediaite.com/news/trump-announces-diamond-of-diamond-and-silk-has-died-her-big-and-precious-heart-just-plain-gave-out/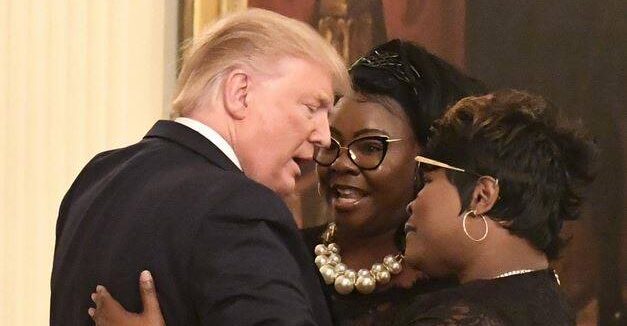 Diamond, of the conservative pro-Trump political commentary duo Diamond and Silk, passed away on Monday, former President Donald Trump announced on social media.
In a statement on Truth Social, Trump said:
Really bad news for Republicans and frankly, ALL Americans. Our beautiful Diamond, of Diamond and Silk, has just passed away at her home in the State she loved so much, North Carolina.

Silk was with her all the way, and at her passing. There was no better TEAM anywhere, or at any time! Diamond's death was totally unexpected, probably her big and precious HEART just plain gave out. Rest In Peace our Magnificent Diamond, you will be greatly missed!
There is no word on the cause of death for Diamond, whose real name was Ineitha Lynnette Hardaway.
Diamond and Silk found social media fame before the 2016 election for their videos supporting Trump's first White House bid. Neither wavered in their support of him during his term in office or in the two years since President Joe Biden was elected.
Both have stated they believe Biden won the 2020 election due to fraud and both were present at Mar-a-Lago when Trump announced his 2024 bid.
"President Trump has our full and complete endorsement!" the duo's Twitter account stated.
Have a tip we should know? tips@mediaite.com