https://www.theblaze.com/news/katie-porter-senate-run-feinstein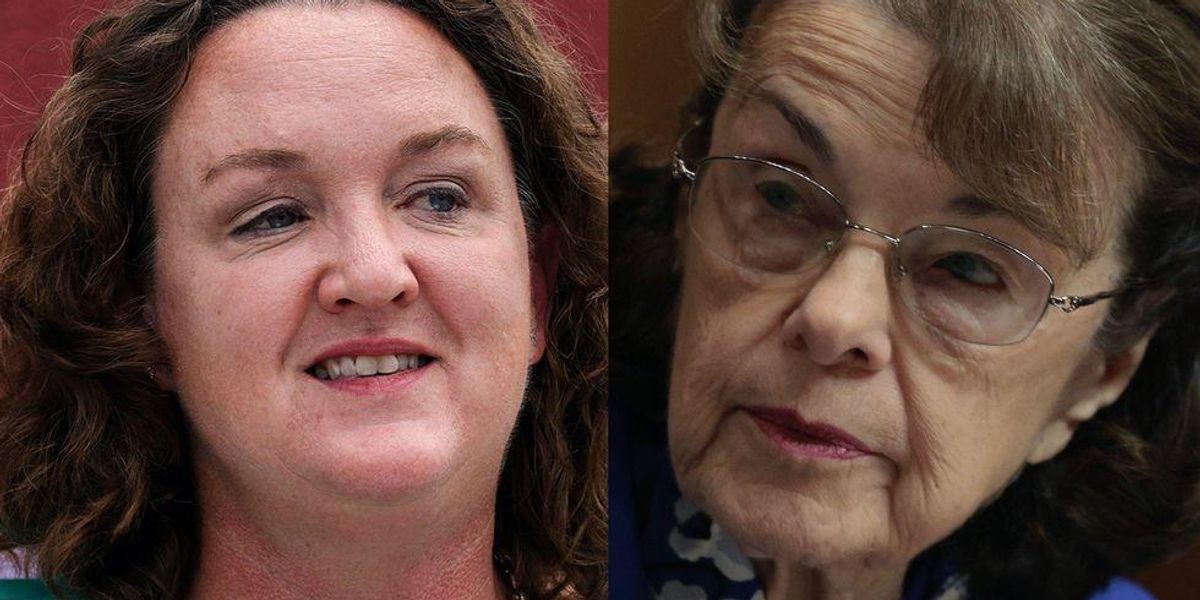 Democratic Rep. Katie Porter of California announced her campaign to usurp Democratic Sen. Dianne Feinstein's seat on Tuesday, and some on the left were outraged at what they saw as very bad timing.
Porter has become something of a celebrity on the left for her aggressive questioning during congressional hearings, usually with a whiteboard in hand, but recently, several former aides called her out for an abusive and hostile work environment.
Despite the controversy, Porter announced her campaign to unseat Feinstein.
"California needs a warrior in the Senate—to stand up to special interests, fight the dangerous imbalance in our economy, and hold so-called leaders like Mitch McConnell accountable for rigging our democracy," Porter tweeted.
"Today, I'm proud to announce my candidacy for the U.S. Senate in 2024," she added.
While some were thrilled with the announcement, others on the left were shocked that she would announce so soon after her own office's tribulations and during a historic and lethal rainstorm in the state.
A person close to Rep. Adam Schiff, also a Democrat in California, excoriated Porter for the ill-timed announcement.
"It's f***ing crazy that she would announce in the middle of a natural disaster. There are 15 people dead. I think there potentially could be more," the person said according to the Los Angeles Times.
Feinstein, who is 89 years old, has been plagued by criticism from Democrats that she has lost the capacity to competently fulfill the duties of the office.
Others on social media had general scorn for the Porter campaign.
"If you out here in these streets defending Katie Porter I suggest you take cover now. Just like a certain legislative failure from Vermont she demands respect sans ANY meaningful achievements," responded one critic. "She should have enough respect for Senator Feinstein to not do this until she makes a decision. What has whiteboard Wanda accomplished for her to think she is entitled to her seat."
"I don't know whether Katie Porter should have waited for Feinstein to make her decision or not, but she probably should have at least waited until after the gigantic natural disaster going on in her state was over," said reporter Matthew Chapman.
"F*** Katie Porter TBQH. Her Senate campaign is both incredibly disrespectful to Dianne Feinstein (let her announce her retirement first goddamn) and a certain loser. She won re-election in her district by less than 10k votes. Worry about keeping it blue," responded a critic who identified as a feminist.
"Don't be blinded by the whiteboard. This woman has zero legislative accomplishments other than renaming a f***ing post office," she added.
Feinstein responded by saying she was focused on the lethal storm and would make a decision about whether to run for reelection later.
Here's more about Porter's gambit:


Rep. Katie Porter to run for U.S. Senate in 2024www.youtube.com