https://www.foxbusiness.com/politics/biden-buttigieg-confidence-faa-system-meltdown-disrupt-travel
President Biden maintains confidence in Secretary of Transportation Pete Buttigieg, even after the Federal Aviation Administration (FAA) suffered a nationwide technical outage causing mass cancellations and delays early Wednesday. 
Fox News White House correspondent Peter Doocy posed the question to White House press secretary Karine Jean-Pierre later in the day. 
After being asked to elaborate why, Jean-Pierre said President Biden "respects the secretary and the work that he has been doing." 
"They are doing everything that they can to make sure that the experience that Americans have is a good one," she said. "That's why they've held the airlines accountable." 
FAA LIFTS AIRLINE GROUND STOP AS FLIGHT DELAYS, CANCELLATIONS PILE UP ACROSS THE COUNTRY
"We understand what Americans have been going through these past couple of months," Jean-Pierre added. "That's why the secretary has been very clear on making sure that they are held accountable. [Buttigieg] has put processes in place to make sure that that occurs. And, yes, the president has confidence in Secretary Buttigieg." 
Earlier in the press conference, Jean-Pierre said President Biden had been briefed on the incident and claimed there was no evidence that a cyberattack had crippled the FAA systems.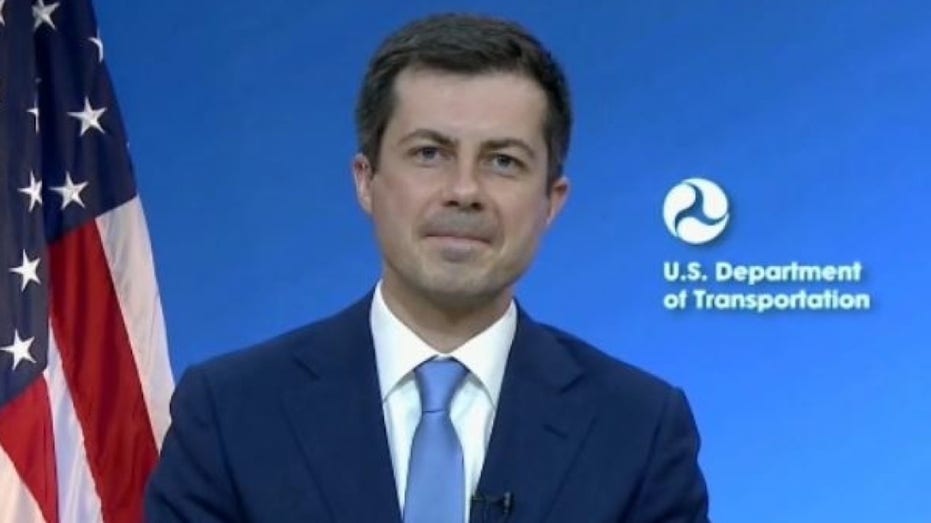 Biden addressed the FAA issue on Wednesday before leaving the White House. He said he had just been briefed by Buttigieg, who told him they still had not identified what went wrong.
"I just spoke to Buttigieg. They don't know what the cause is. But I was on the phone with him about 10 minutes," Biden said. "I told him to report directly to me when they find out. Air traffic can still land safely, just not take off right now. We don't know what the cause of it is."
FAA SYSTEM OUTAGE: WHAT AIRLINES ARE DOING FOR PASSENGERS
Buttigieg tweeted a response to the day's chaos from earlier, saying he had "directed an after-action process to determine root causes and recommend next steps." 
Thousands of flights across the U.S. were canceled or delayed Wednesday after a government system that offers safety and other information to pilots broke down, stranding some planes on the ground for hours.
The White House said there was no evidence that a cyberattack triggered the outage, which upended travel plans for millions of passengers. President Biden said he directed the Department of Transportation to investigate.
PETE BUTTIGIEG OFTEN FLIES ON TAXPAYER-FUNDED PRIVATE JETS, FLIGHT DATA SHOW
The breakdown showed how much American air travel depends on an antiquated computer system that generates alerts called NOTAMs — or Notice to Air Missions — to pilots and others.
The NOTAM system broke down late Tuesday and was not fixed until midmorning Wednesday, leading to more than 1,200 flight cancellations and more than 8,500 delays by early afternoon on the East Coast, according to flight-tracking website FlightAware.
After several hours, the system continued to produce errors before slowly coming back online around 9 a.m. ET. 
It was the latest headache for travelers in the U.S. who faced weather-related flight cancellations over the holidays and a broad breakdown at Southwest Airlines.
CLICK HERE TO GET THE FOX BUSINESS APP
Passengers also ran into long lines, lost baggage and cancellations and delays over the summer as travel demand roared back from the COVID-19 pandemic and ran into staffing cutbacks at airports and airlines in the U.S. and Europe.
Fox News' Nikolas Lanum and The Associated Press contributed to this report.