https://www.theblaze.com/news/drag-queen-story-hour-protest
Militant leftists far outnumbered people protesting a drag story time event for kids Saturday in front of the Fall River Public Library in Massachusetts — and a drag queen was on hand to rally the woke troops.
Miss Gloria was jazzed that so many fellow leftists came out "to show Nazis that they have no place in the 21st century!" The cheering crowd loved it.
Speaking in defense of the drag story time event, Miss Gloria added: "This is not lewd! We LGBT people, we're not inappropriate! … We reject hate!"
Video journalist Brendan Gutenschwager captured the drag queen's speech and a number of other notable moments:
WJAR-TV spoke to Sean Connell — who plays Miss Gloria — and he told the station he believes there's a big difference between drag shows that take place at bars and the drag story time event.
"It's not recruitment. It's not grooming. It's love. It's stories," Connell told WJAR. "It's letting LGBT kids know that LGBT adults are here — we survive [and] they can survive and they can continue to be themselves."
Connell added to the station that despite the protests, the drag story time at the library will continue every month: "I think that the big message here is, 'Don't let hate and fear stop you from learning who you are and from being your authentic self.'"
What else happened?
At one point, a lone man holding a "no sex with children! Pervert!" sign stood in front of the leftist group supporting the drag event, one of whom waved an Antifa flag: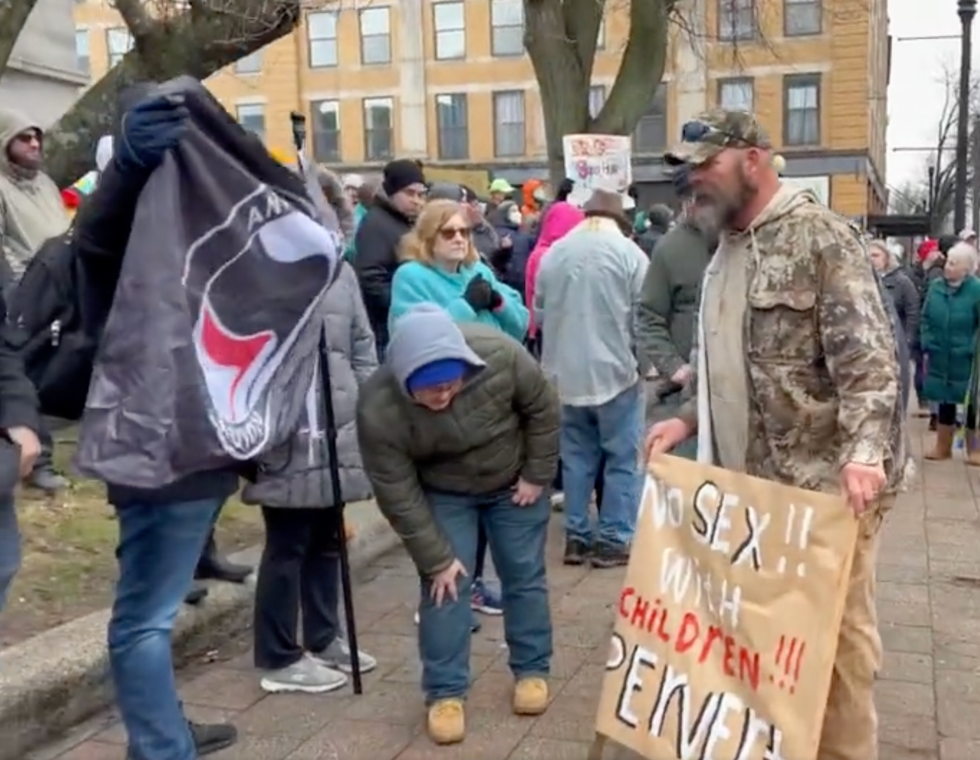 Image source: Twitter video screenshot via @BGOnTheScene
Here's the clip showing the man eventually being surrounded:
There was your obligatory "go home, Nazis!" chant:
A different lone man standing against the drag time story event faced off against leftists standing guard and wouldn't back down when one them took a couple of steps beyond the protection of his group and put on a tough-guy routine: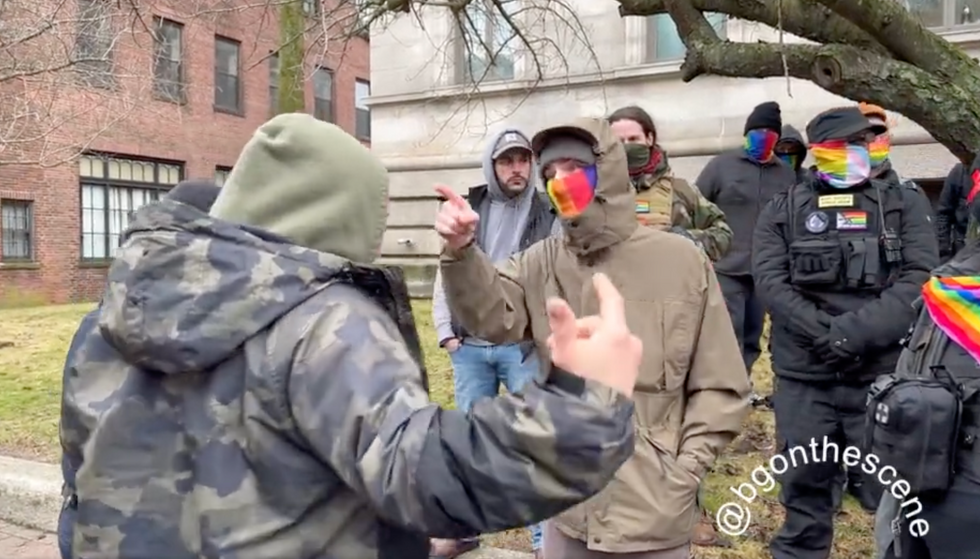 Image source: Twitter video screenshot via @BGOnTheScene
Here's the clip. (Content warning: language):
Anything else?
WJAR did get the perspective of one person protesting the drag time story event.
"I'm just completely against it, I want it to stop," Christine Doherty told the station. "Drag shows and drag queens are not appropriate for children. Nobody's homophobic on our side at all. Drag shows are fine for adults who want to go see them."
Like Blaze News? Bypass the censors, sign up for our newsletters, and get stories like this direct to your inbox. Sign up here!