https://www.theguardian.com/science/2023/feb/04/scientist-edited-babies-genes-acted-too-quickly-he-jiankui
Scientist who edited babies' genes says he acted 'too quickly'
Exclusive: He Jiankui stops short of apologising for procedure that shocked the world of science in 2018
The scientist at the heart of the scandal involving the world's first gene-edited babies has said he moved "too quickly" by pressing ahead with the procedure.
He Jiankui sent shock waves across the world of science when he announced in 2018 that he had edited the genes of twin girls, Lulu and Nana, before birth. He was subsequently sacked by his university in Shenzhen, received a three-year prison sentence, and was broadly condemned for having gone ahead with the risky, ethically contentious and medically unjustified procedure with inadequate consent from the families involved.
Speaking to the Guardian in one of his first interviews since his public re-emergence last year, He said: "I've been thinking about what I've done in the past for a long time. To summarise it up in one sentence: I did it too quickly."
However, he stopped short of expressing regret or apologising, saying "I need more time to think about that" and "that's a complicated question".
He declined to elaborate on what he believed ought to have been in place before proceeding with gene editing, but said he would give further details at an invited talk he is scheduled to give at the University of Oxford next month.
He studied physics in China before moving to the US to study for a PhD at Rice University and a post-doctorate in genome sequencing at Stanford University. He returned to China in 2012 to pursue Crispr-Cas9 gene-editing research, launching a variety of biotechnology business ventures.
Gene-edited cells were already beginning to be used in clinical treatments for adults. But genetically modifying embryos was – and is – far more ethically contentious, because changes are made to every cell in the body and are passed down to subsequent generations. Some question whether such a step could ever be medically justified.
Against this backdrop, He dropped the bombshell at an international conference in Hong Kong four years ago that he had modified two embryos before they were placed in their mother's womb. It later emerged that a third gene-edited baby had been born.
The edit, of a gene called CCR5, targeted a pathway used by the HIV virus to enter cells, and was claimed to give the babies immunity to HIV.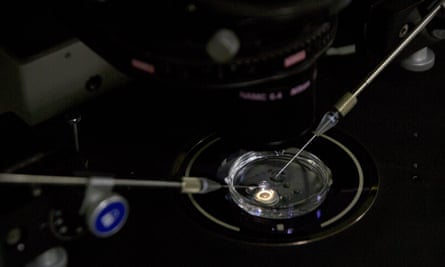 Many expressed shock at the use of a risky, untested procedure in circumstances where there was no unmet medical need. He's unpublished data indicated concerning evidence of "off-target" effects, unwanted genetic changes that can carry a risk of heart defects, cancer and developmental problems.
He was found guilty of "illegal medical practices" and sentenced to three years in prison. He declined to say where he served the sentence or give any details of his experience.
He claims to have maintained contact with the twins' family, but would not say whether he was involved in their clinical follow-up or when he last saw them. "Lulu and Nana are living a normal, peaceful, undisturbed life and we should respect them," he said. "We respect patient privacy and, for me, I put the happiness of the family first and the science discovery second."
When asked about how the third child was doing, He replied: "I'm not answering this question," later adding that the child was "living a normal life living with their parents".
He appears intent on relaunching his career and has set up a lab in Beijing to work on affordable gene therapies for rare diseases such as Duchenne muscular dystrophy. He claims to have secured sufficient funding through charitable donors to rent lab space, employ five scientists and begin animal studies, and says he will use his personal wealth if required to take the venture further.
He is scheduled to give talks at a range of universities and conferences this year, including an online seminar on bioethics next week at the University of Kent and the talk next month at Oxford, hosted by an anthropologist, Dr Eben Kirksey. He does not view the scandal as an insurmountable barrier to running clinical trials again in future.
"According to Chinese law, when a person has served the prison [sentence], after that they begin again with full rights," he said. "Compared to the past experience, it's more important what we're doing today that determine whether I move on or not."
Asked whether the past four years had been difficult, He said he preferred to focus on the future. "I like the Beatles song Let It Be," he said. "Let's move on to my new project."
The expectation of being able to resume a scientific career in a tangential field may seem improbable but would not be without precedent. Hwang Woo-suk, a South Korean scientist, became internationally infamous in 2006 after fabricating a human cloning breakthrough and using eggs donated by his graduate students, but subsequently returned to scientific research on pig cloning and commercial ventures cloning pets and farm animals.
He might move on, but in his case three children will continue to carry the changes he made to their DNA, with uncertain health consequences.
) can use this variablenttt * to set the thickness of their underline.nttt *nttt * The thickness for each font type and weight is definednttt * in the underlineThickness object.nttt */nttt–source-text-decoration-thickness: 2px;ntt;ntheight: 24px;ntmax-height: 24px;ntbackground-color: #F6F6F6;ntpadding: 0 8px;ntborder-top: 1px solid #DCDCDC;ntcolor: #707070;nttext-align: left;ntbox-sizing: border-box;n;nttposition: relative;ntt&.visible {ntttvisibility: initial;ntt}ntt&.hidden {ntttvisibility: hidden;ntt}nt}nt.ad-slot__close-button {nttdisplay: none;nt}nnt.ad-slot__scroll {nttposition: fixed;nttbottom: 0;nttwidth: 100%;nttntntttfont-family: GuardianTextSans, Guardian Text Sans Web, Helvetica Neue, Helvetica, Arial, Lucida Grande, sans-serif;ntttfont-size: 0.75rem;ntttline-height: 1.35;ntttfont-weight: 400;nttt;nnttt/*nttt * Child elements (e.g. ) can use this variablenttt * to set the thickness of their underline.nttt *nttt * The thickness for each font type and weight is definednttt * in the underlineThickness object.nttt */nttt–source-text-decoration-thickness: 2px;ntt;ntheight: 24px;ntmax-height: 24px;ntbackground-color: #F6F6F6;ntpadding: 0 8px;ntborder-top: 1px solid #DCDCDC;ntcolor: #707070;nttext-align: left;ntbox-sizing: border-box;n;nt}nnt.ad-slot:not[data-label-show='true']::before {nttcontent: ";nttdisplay: block;nttheight: 24px;nttvisibility: hidden;nt}nnt.ad-slot[data-label-show='true']:not(.ad-slot–interscroller)::before {nttcontent: attr(ad-label-text);nttdisplay: block;nttposition: relative;nttntntttfont-family: GuardianTextSans, Guardian Text Sans Web, Helvetica Neue, Helvetica, Arial, Lucida Grande, sans-serif;ntttfont-size: 0.75rem;ntttline-height: 1.35;ntttfont-weight: 400;nttt;nnttt/*nttt * Child elements (e.g. ) can use this variablenttt * to set the thickness of their underline.nttt *nttt * The thickness for each font type and weight is definednttt * in the underlineThickness object.nttt */nttt–source-text-decoration-thickness: 2px;ntt;ntheight: 24px;ntmax-height: 24px;ntbackground-color: #F6F6F6;ntpadding: 0 8px;ntborder-top: 1px solid #DCDCDC;ntcolor: #707070;nttext-align: left;ntbox-sizing: border-box;n;nt}nnt.ad-slot__adtest-cookie-clear-link {nttntttfont-family: GuardianTextSans, Guardian Text Sans Web, Helvetica Neue, Helvetica, Arial, Lucida Grande, sans-serif;ntttfont-size: 0.75rem;ntttline-height: 1.35;ntttfont-weight: 400;nttt;nnttt/*nttt * Child elements (e.g. ) can use this variablenttt * to set the thickness of their underline.nttt *nttt * The thickness for each font type and weight is definednttt * in the underlineThickness object.nttt */nttt–source-text-decoration-thickness: 2px;ntt;ntttext-align: left;nttposition: absolute;nttright: 3px;ntttop: -22px;nttpadding: 0;nttborder: 0;nt}n"},{"name":"6gzy3t","styles":"nt&.ad-slot–fluid {nttmin-height: 250px;nttline-height: 10px;nttpadding: 0;nttmargin: 0;nt}n"}]}">