https://www.bbc.com/news/world-middle-east-65571023
A barrage of rockets has reached an area close to Jerusalem for the first time in four days of fighting between Israel and militants in Gaza.
Local media say a rocket from Gaza landed near the Jewish settlement of Bat Ayin in the occupied West Bank, about 16km (10 miles) south of Jerusalem. No injuries were reported.
Israel says it has attacked rocket-firing sites in Gaza in response.
It comes as Egypt mediates for a ceasefire between the two sides.
Thirty-one people – about half of them civilians – have been killed by Israeli air strikes on Gaza since Israel carried out a surprise attack killing three Palestinian Islamic Jihad (PIJ) militants on Tuesday, the health ministry in Gaza says.
One Israeli has been killed and five wounded by rocket fire in the same period, Israeli's Magen David Adom (MDA) ambulance service says.
PIJ said "the firing of rockets at Jerusalem is a message, and everyone should understand its aim". Israel considers Jerusalem its capital and its targeting marks a significant escalation by the militants. It is the first time rockets have landed near there since a 10-day conflict between the two sides in May 2021.
The resumption of fighting comes after hours of relative calm, which gave rise to hopes for a ceasefire. Israel carried out an air strike of militant sites in the early hours of Friday, but there had been no rocket attacks overnight. Rockets also hit two houses in the towns of Sderot and Nir Am during the barrage on Friday, though without causing injury.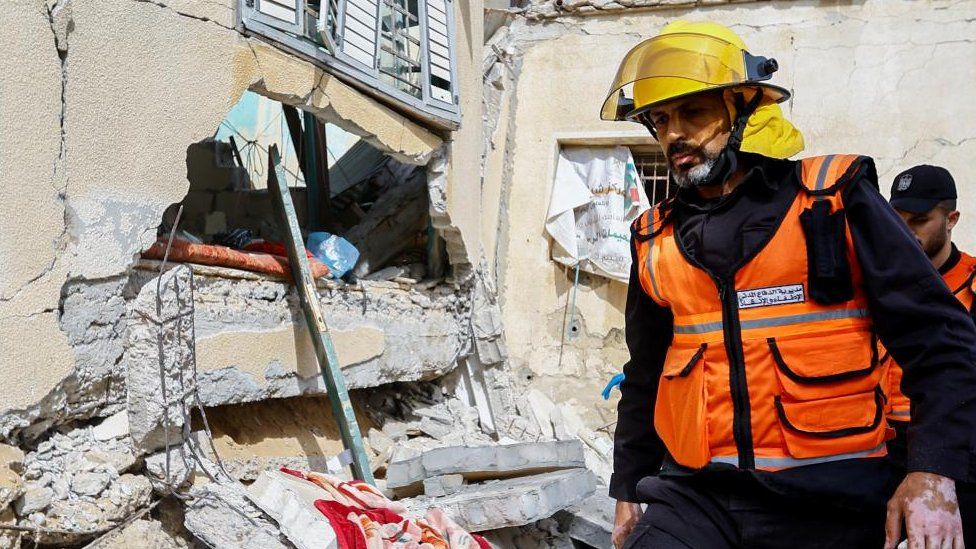 This week's fighting is the heaviest since three days of hostilities between Israel and PIJ last August, in which 49 Palestinians were killed in Gaza.
PIJ is the biggest militant group after Hamas, which controls the Gaza Strip, and is sworn to Israel's destruction.
Israel said the three PIJ commanders were planning attacks when they were killed in an air strike on Tuesday morning. It killed two further commanders – the head of PIJ's rocket force and his deputy – in strikes on Thursday.
The Israel Defense Forces (IDF) says more than 850 rockets have been fired at it from Gaza over the past four days, most of which it says have been intercepted or have landed in open areas. It says about a fifth have fallen short and landed in Gaza. According to the IDF, four people, including three children, have been killed in Gaza by failed rockets, though this has not been corroborated by Palestinian sources.
It says it has hit 215 militant targets with air strikes in Gaza.